Japan is a country that truly celebrates the beauty of each season. Out of them all, autumn is my favorite. As summer slowly fades, Japan's landscapes are covered with fiery reds, burnt oranges, and golden yellows, creating a sight that's hard to miss. It is a time when everyone embraces the fleeting beauty of the season through a unique tradition.
It was during the start of autumn in Japan that I began my student life at Tokyo Tech. As a person from Indonesia, where there are only dry and rainy seasons, experiencing autumn for the first time made a significant impression on me. I tried to look for any cultural tradition that Japanese people seasonally observe, with the hope of doing the same. That was when I discovered the term momijigari (紅葉狩り). The word consists of two parts, momiji (紅葉) which means the red leaves that signal the beginning of the fall season, and gari (狩り) which means hunting. However, instead of referring to "hunting" as cutting off leaves and taking them home, the word refers to appreciating the changing seasons and visiting places where the leaves have started to blush. People often go on nature trips, such as brisk hikes or visiting historical temples known for their foliage. They may also combine an outing with an overnight stay in a Japanese-style inn (旅館: Ryokan), with seasonal cuisines and natural hot springs. Those kinds of experiences — connecting with nature through travel — were precisely what I aimed for, especially for my first autumn. Hence, last October, I decided to immerse myself in this enchanting tradition by going all the way to Nikko for a 2-day, 1-night trip.
Nikko is located in Japan's Tochigi Prefecture and is famous for its rich natural beauty and sightseeing spots. There are also numerous historical shrines and temples, as well as hot springs scattered throughout the area. The place is easily accessible from the Greater Tokyo area via train, car, or Shinkansen, depending on your budget and schedule. If you want to return to nature by visiting Nikko for your next momijigari trip, check out my 2-day itinerary below.
How to Get There
I took the direct Tobu-Nikko Limited Express train from Kitasenju Station to Tobu-Nikko Station, which took around 3 hours and cost 3,000 yen. Alternatively, taking the local train costs less but may take longer and involve more transfers. Going by car is also a viable option, especially for groups. Plus, you can enjoy the scenery during the approximately 2-hour drive.
Day 1
Upon arriving in Nikko, my first stop was Kinugawa Onsen Ropeway. To get there, I needed to take a train from Tobu-Nikko Station to Kinugawa-Onsen Station. Then, I took a shuttle bus to the ropeway itself, which ascends 300 meters in 4 minutes to an observation deck with a scenic view of Kinugawa Onsen and Mt. Tsukuba. However, even before reaching the top, I was captivated by the breathtaking mountain views along the ropeway. The scenery showcased the yellow, orange, and golden-brown hues of autumn leaves, with some even fading to a captivating red. It was beautiful and looked like a painting coming to life before my eyes.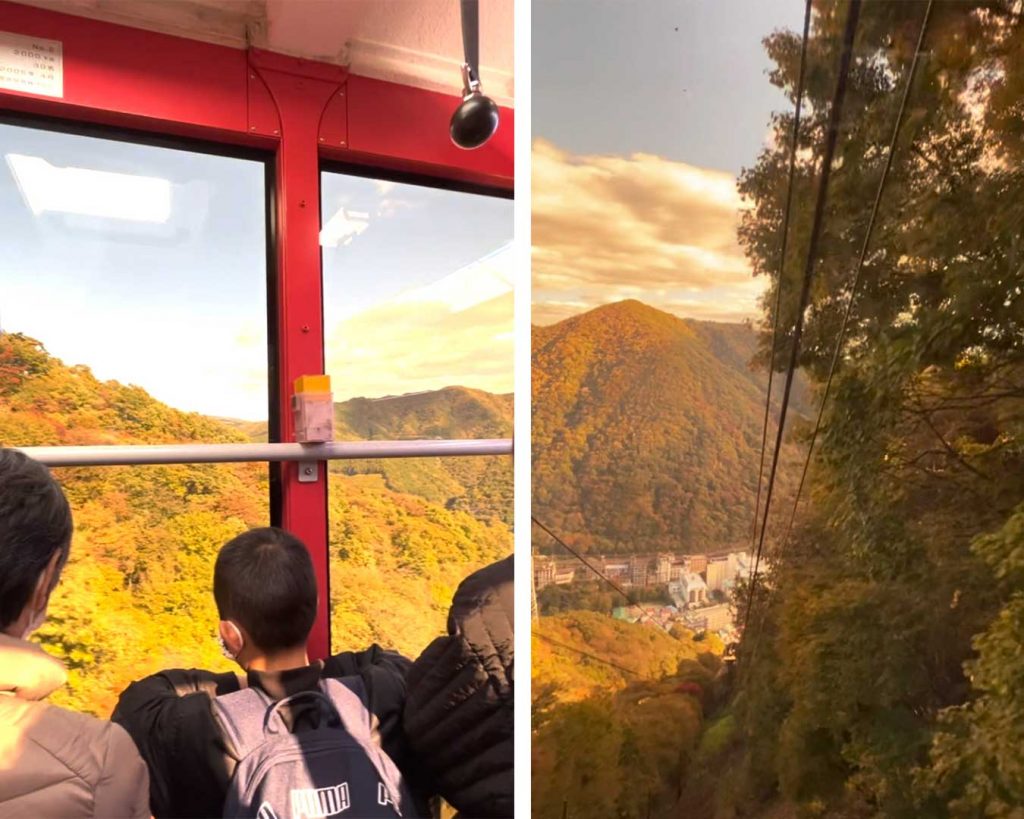 At that time, the round-trip ride cost 1,100 yen for adults and 550 yen for children — a reasonable price for the experience offered. However, as the fee may fluctuate over time, you may check the latest price list from this link: https://ropeway.kinu1.com/. Bring cash with you, as credit cards are not accepted. Upon reaching the top, I again enjoyed the panoramic view of the mountains and Kinugawa hot spring town from the observation deck. Free-standing binoculars and a telescope were also available for visitors to use.
Kinugawa Onsen Ropeway is also known as "Monkey Mountain," as visitors can see and feed dozens of free-roaming monkeys at the mountain's peak. Worry not, as a wire fence is installed to ensure safety when playing with them. The monkeys are clever and adorable, and they would politely request snacks and then take them from the tongs we held. However, bringing your own food to feed them is prohibited, so we had to buy some at a counter. Near the monkey area, some stairs led to the forest and eventually towards Onsen-jinja Shrine at the summit. I was told it is one of the best spots for viewing maple leaves and cherry blossoms. However, I only went as far as the gate. The gate was a unique structure known as the Soryumon or the "Twin Dragon" gate. It appeared like two dragons holding a golden ball, forming a heart shape. A small sign near the entrance explained that if anyone passed through it and made a wish, the dragons would deliver the golden ball to the heavens and make the wish come true.

Before it got dark outside, I hurried to the Japanese-style inn I had booked earlier at Kawaji Onsen. I had to take a local train to Kawaji Onsen Station and walk for about 15 minutes to reach the inn. The area was quite remote, and the train had to pass through the mountain caves several times. The station had a vintage feel; staff manually checked tickets, so cash was necessary. However, the area had many hot springs and beautiful valleys, so I could enjoy the scenery while taking a leisurely walk. Not to mention, the autumn view from the station itself was terrific. I arrived at the inn in the evening and went straight to the onsen to relax. And that concluded my first day in Nikko.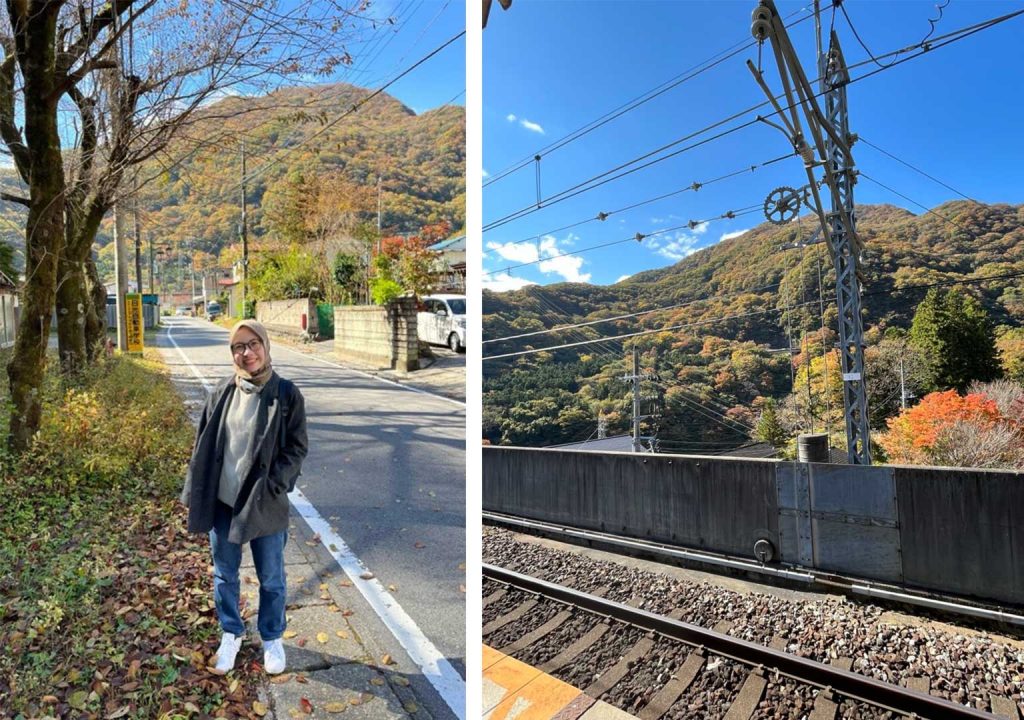 Day 2
On day two of my trip, I went on a brisk hike in search of autumn leaves in the Ryuo Valley (龍王峡: Ryuokyo). The valley features huge, odd-shaped rocks carried downstream by the Kinugawa River from a volcanic eruption 22 million years ago, creating a unique landscape. The winding route resembled a dragon, and is thus named Ryuokyo, meaning "Dragon King Valley." To get there, I took a quick local train to Ryuokyo Station, which was only 5 minutes away from where I stayed. In front of the station, I was greeted with a beautiful sight of trees and hills covered in red maple leaves, making me linger for a while before continuing on (Photo 9).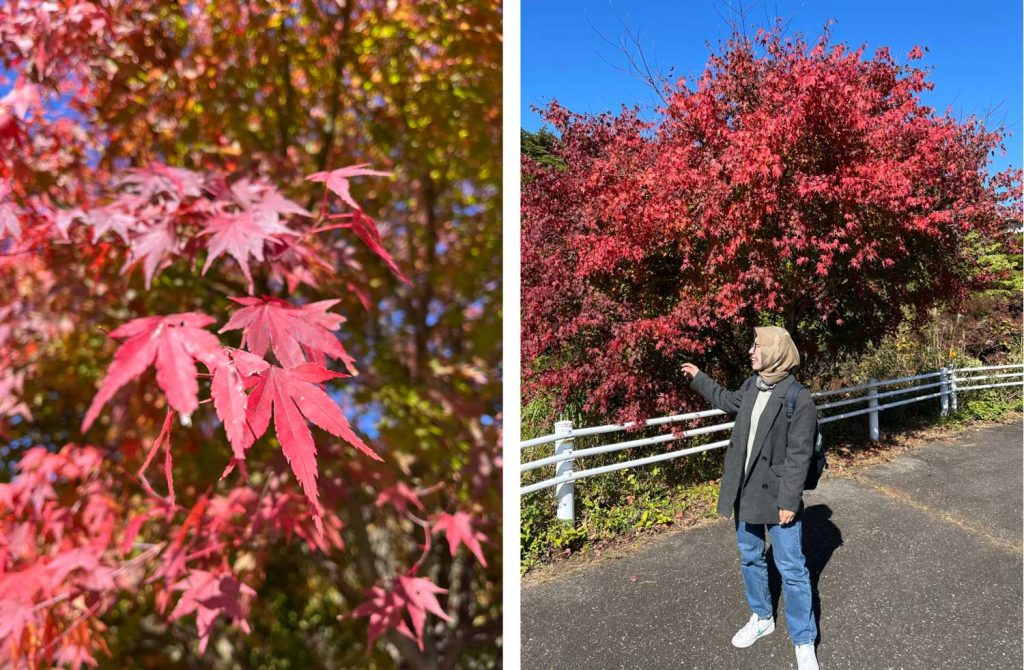 Walking down the hiking trail, I couldn't help but admire the beautiful landscape. The track is around 7 km long, but I only hiked a simple 3 km loop. The trail had wooden boards and steps for some sections and didn't require special footwear, perfect for light hiking. However, extra care is needed if the ground is wet. Along the way, I discovered the small Goryuo Shrine built in honor of the dragon and sat atop the water (Photo 10).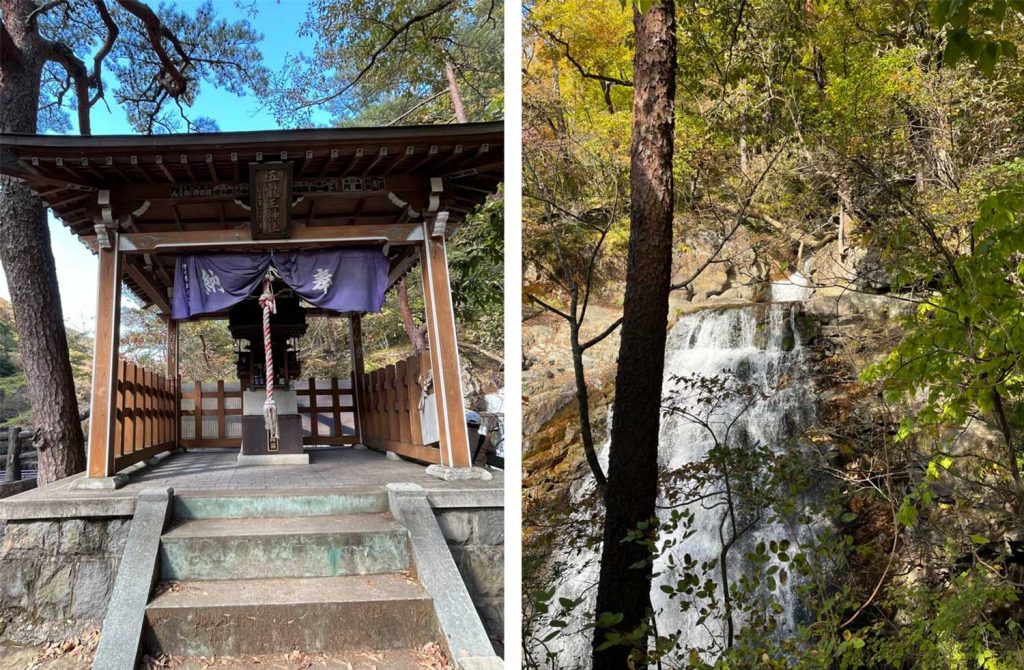 As I walked a little further, I came across another waterfall called the Tategoto Waterfall. The name Tategoto, which translates to "harp," is a fitting description as the lines of the waterfalls resemble the strings of a harp (Photo 11). The waterfall was only 5 meters tall, running from Mt. Keichozan to the Kinugawa River. The final stop is Nijimi Bridge (Photo 12), a perfect spot for photos while admiring the display of autumn foliage in the valley. From the bridge, I could enjoy a stunning view of the Kinugawa River flowing in emerald green, surrounded by sheer cliffs, trees with red and yellow leaves, and rocks of various shapes and sizes (Photo 13). It was so unique that I stayed captivated by the scenery for about 20 minutes.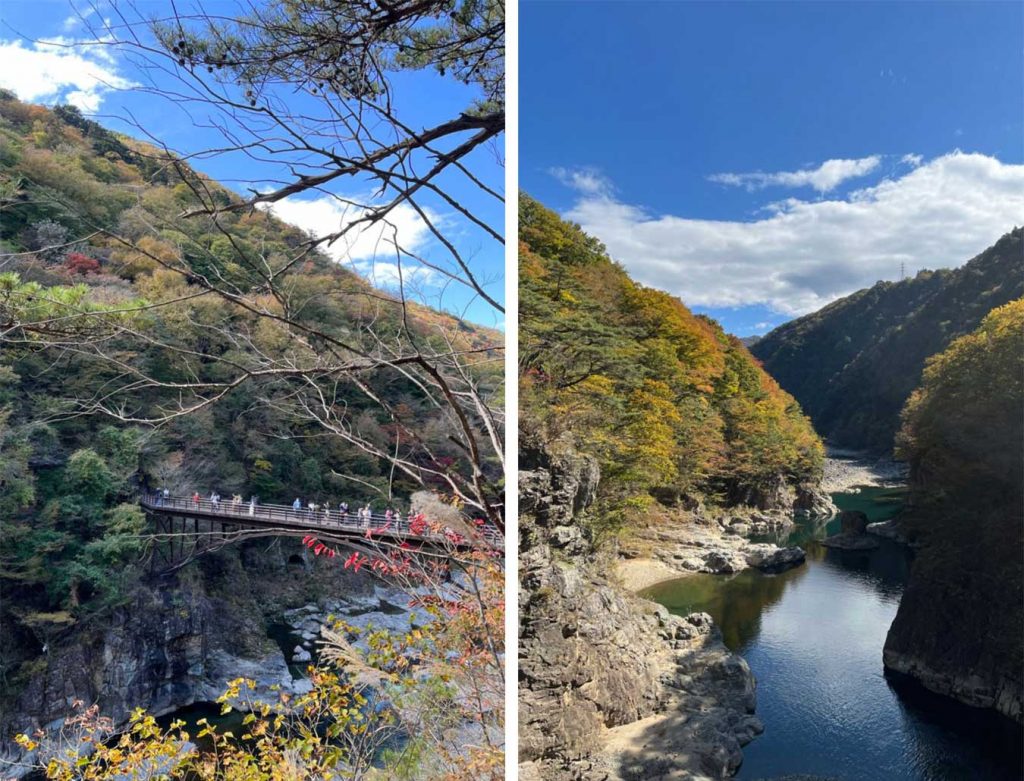 After capturing many photos, I returned to Tokyo with countless memories of my first autumn experience. During the trip, I realized that momijigari is not just an opportunity to appreciate nature's splendor but also a chance to contemplate the transient nature of life and the significance of cherishing the present moment. As the leaves fall and the trees become bare, the season reminds us that everything in life is temporary, and we should value every moment while it lasts. Finally, I hope you had a great time reading the stories and found inspiration to plan your own momijigari adventure in Japan!