How do you celebrate New Year's Day? I was pleasantly surprised by the traditional way it is celebrated in Japan, a modern country full of cutting-edge technology. Let me share with you my two different experiences of celebrating New Year's Day in Japan.
New Year's Day is a huge celebration worldwide. On this day, we bid farewell to the past year and welcome the new year with warm hopes and wishes. It is common in my culture to gather with friends and family or even join big countdown events on New Year's Eve. When the clock strikes 12 on New Year's Day, you will hear fireworks everywhere celebrating this day and spreading this joy to everyone. However, it is different here in Japan. From what I have experienced so far living here for almost three years, I have not seen or heard fireworks on New Year's Day.
At the end of each year, starting from Christmas Day (December 25th), the streets in Japan are much quieter as most shops close, and people get together with their families enjoying bonding time. On New Year's Eve (December 31st), there is this special TV show on NHK called "Kōhaku Uta Gassen" (紅白歌合戦, literally meaning "red and white singing contest"), where famous artists are invited and divided into two teams, red and white, for a battle. I have watched this show every year, even before coming to Japan, as my father is a big fan. After that, the broadcast will change to showing the ceremony of ringing the bell in the temple. Then, the announcers will greet you with "Happy New Year" (あけましておめでとうございます) when the clock strikes 12.
New Year's Day 2022 in Kamakura
I spent New Year's Day a little differently in 2022 and 2023, so now I will talk about my experiences on these special days. In 2022, I was very happy that my cousin who was also living in Japan invited me over to her place to celebrate the first day of the year in Kamakura. As expected, Kamakura was crowded with visitors during this time. We decided to take a jinrikisha (人力車), or rickshaw, to ride around Kamakura and visit a few temples. We were very lucky as the rickshaw driver took us to a special temple named "Jufukuji" (寿福寺), which is only open to the public on New Year's Day and during Golden Week. Unfortunately, I was informed that the head priest passed away last year and that they are in mourning so there is the possibility that they will not be open for New Year's Day in 2024.
It was surprising to see how the Japanese celebrate the start of the year so differently. Families and groups of friends can be seen going to shrines and temples together for prayers, commonly known as hatsumōde (初詣). My cousin and I went to a shrine in Kamakura named "Tsurugaoka Hachimangū" (鶴岡八幡宮) and a temple called "Kōtoku-in Temple" (高徳院), both of which were crowded with people, making it a more special experience.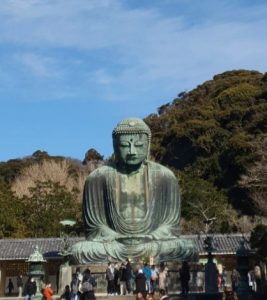 For more information on the Tsurugaoka Hachimangū and Kōtoku-in Temple, kindly visit their websites below (English versions available).
– Tsurugaoka Hachimangū
– Kōtoku-in Temple
On January 1, 2022, it was my first time trying osechi-ryōri (おせち料理). I was shocked when I first tried it as all the dishes were cold. Then, I learned that they were meant to be cold as it was tradition for people to avoid cooking during the first three days of the year. I later learned that typical Japanese household eat osechi together with ozo-ni, a warm soup with mochi (rice cake).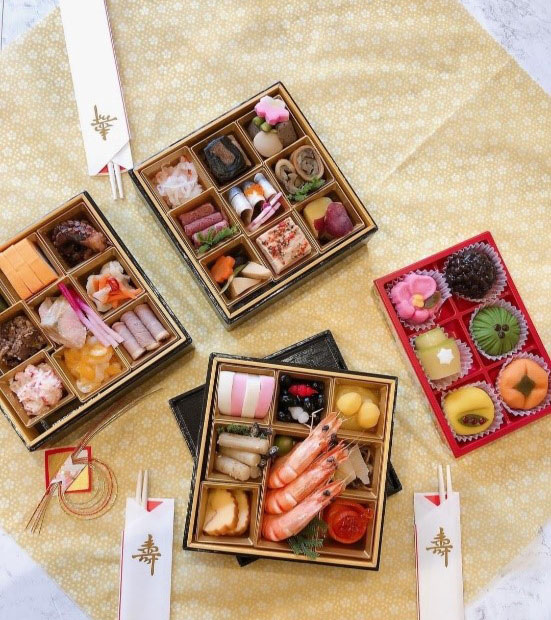 New Year's Day 2023 in Asakusa
This year, I decided to visit Asakusa with my brother on the special day. Asakusa is a famous tourist spot and very popular for hatsumode during the New Year season. As expected, it was crowded with people from all walks of life starting from the train station. It took us a while in the queue to enter "Sensōji Temple" (浅草寺) as it was packed with people coming to pray. Along the way, there were many small shops selling snacks and souvenirs. If you want anything from the shops, I recommend you to buy them immediately as the walkway to the temple is a one-way path on New Year's Day. To know more about Sensōji, kindly visit their English website.
– Sensōji Temple
On the way to the temple, we saw a spot for omikuji (おみくじ), a small slip of paper containing one's written fortune, so we decided to try out our luck this year. To receive omikuji, you first pay by putting money in the box (usually 100 – 200 yen), then shake the wooden box until an omikuji stick falls out. Lastly, you will need to look for your omikuji paper according to the number shown on the stick. My brother got kichi (吉), which means "blessing in overall luck", but I got kyō (凶), which means "bad fortune." In this case, you will see people tying their omikuji paper onto trees or places set up in the shrine so that the bad fortune will stay there and not follow them.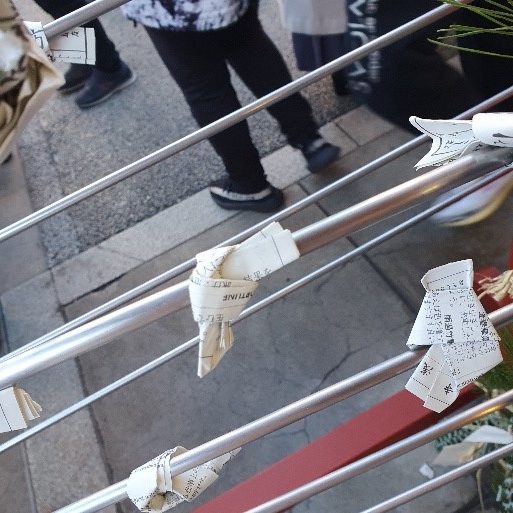 I certainly enjoyed the two New Year's Days; seeing the way it is celebrated while experiencing different cultures. For those who are coming to Japan, I really recommend you experience this unique tradition and also share with the people around you how your culture celebrates this special day.