As a student researcher, reading research papers on my field of study has become a daily routine. In addition, I also have a weekly seminar with my lab mates to discuss a specific paper from our field. While these activities have helped me to deepen my understanding of my research topic, I also want to get exposure to other subjects that are not necessarily related to mine. A fun way to do so is by attending documentary film screenings that are often followed by a group discussion.
On July 14th, 2022, I joined the screening of a documentary film called "Newtok" at Ookayama campus. This event was organized by Dr. May Carlon, Postdoctoral Researcher from Cross Lab Associate Professor Alvin Varquez from the Global Urban Climatology Lab, and the Tokyo Tech Academy for Leadership (ToTAL). It took place a few days before "Sea Day", which is a national holiday in Japan to express gratitude to the seas and oceans.
Released in 2021 by Patagonia, an outdoor apparel and gear brand, the documentary portrays the struggles of the native Yupik people, who have been living in an Alaskan village called "Newtok," in seeking justice to save their community. These people have witnessed first-hand the horrendous impacts of climate change endangering their lives. River erosion exacerbated by permafrost melting, flooding, and frequent extreme storms have been threatening their village for years. An appalling scene in the film shows how quickly water reached the residential area, where in only a few days, the river was able to swallow inches of their land. This has forced the people to relocate to a safer place as soon as possible.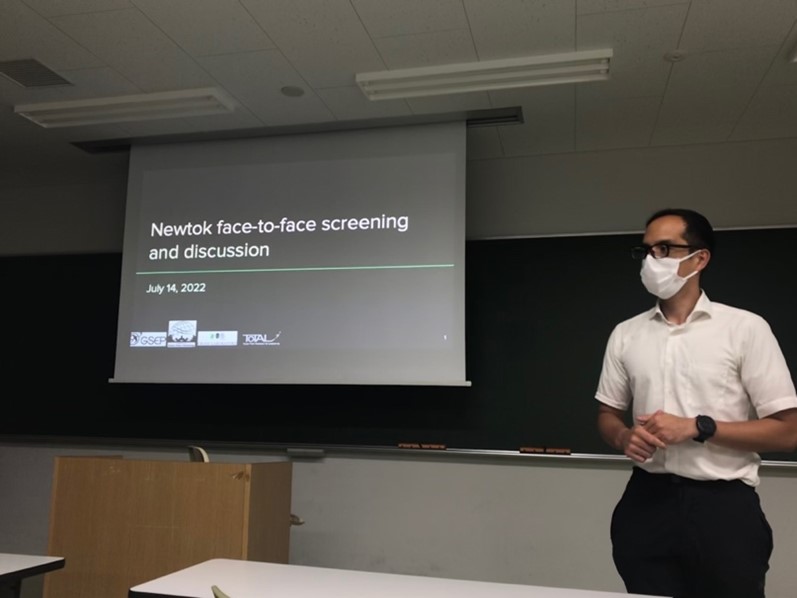 After the movie screening, we had a brief discussion session. A student shared his opinion about the adverse impacts of extreme weather and rainfall on vulnerable communities. He tried to draw a connection between the issue and some scenes from the film. Another student pointed out the role of the American government in aiding displaced residents to find new homes. Based on the documentary, he argued that the government should take a more active role in accelerating the relocation process. In addition, another student shared her perspective on the issue from a political point of view. She believed that political interest was a major factor for the government in allocating funding for the relocation.
Furthermore, I also contributed to the discussion by sharing a story from the capital city of Indonesia, Jakarta. People who live in the coastal area in North Jakarta have been facing a similar issue as the Yupik people from Newtok. Jakarta is known as one of the fastest sinking cities in the world. The city is sinking from one to 15 cm a year and almost half of it is already below sea level, and in North Jakarta, the rate is about 25 cm a year [see reference 1]. Land subsidence due to excessive extraction of groundwater has been reported to be one of the main causes of this phenomenon. Moreover, flooding caused by extreme weather and rising sea levels has worsened the situation. People in North Jakarta have built barriers to prevent water from entering their residential areas. They have tried it multiple times but the water was able to reach their land again and again. Same as the people of Newtok, North Jakartans will have to relocate soon.
This documentary shows me how alarming climate change is. It reminds me that it's all happening now. If you watch the news, you will find horror scenes of unstoppable forest fires, new records of deadly heat waves, and terrifying footage of ice avalanches. "Newtok" displays evidence that climate change is threatening vulnerable communities and even forcing them to leave the places they have called home for decades. Ultimately, the movie and the group discussion that followed not only gave me a new perspective but they also sparked my interest in climate change mitigation research.
References