Nowadays, the number of entrepreneurs in a country has been used as an indicator to measure the country's economic growth. In recent years, the start-up boom has been spreading across Japan due to the government's proactive stance in building the start-up ecosystem. In line with this current trend, the number of young entrepreneurs that took the challenge to create innovative start-up businesses and caught public attention has gradually increased. These young entrepreneurs are expected to lead the future of society with their innovative ideas!
Here at Tokyo Tech, students are welcome to challenge their unique ideas and technical experience through the various start-up programs conducted. Tokyo Tech Academy for Leadership, ToTAL, to which I belong, holds a three-month practical entrepreneurship program called the Lean Launchpad program (LLP). In the program, students will form a team in advance in which they will participate and brush up on their business idea to a feasible level. I am currently participating in this program and building up a business idea. I decided to take part in this program, due to my past experience in a business competition. Since then, I have been interested in creating new values in society by presenting various solutions to existing problems through business. I believe there are plenty of opportunities to contribute to society with unique ideas and strong passion! In this article, I want to share my experience of the two-day training camp of the Lean Launchpad program, and I hope you enjoy it!
The training camp was held at a giant training facility in a suburb of Tokyo for two days, and nine teams joined. On the first day, the program started with team-building activities to strengthen the relationship among members and foster unity within the team. To nurture a business idea, having the same view as a team is vital, and was essential to ensure the successful outcome of this program. Although most of my team members already knew each other, this activity helped to further improve my team's cohesion. We also shared and clarified the vision of our business and were eager to achieve our goal through this activity. After that, we started thinking and discussing our business idea seriously. In the class, we were taught to consider points such as where the concerns are, what the customer's needs are, and how to solve the problems through our business and provide new value to the customers. This thinking process is fundamental in building a business. Throughout the camp, we learned to verbalize customers' values and organize various ideas and issues through a business framework.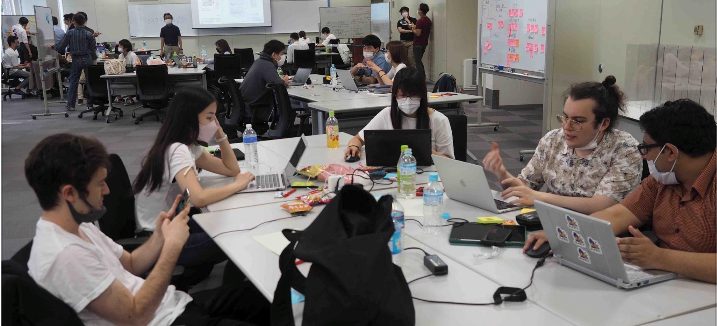 At the end of the first day, each team presented their progress, and teachers, TAs, and students from other teams provided feedback. It was a valuable opportunity for peer learning, and I was able to get different perspectives through active opinion exchange. Even after the day's agenda was over, all teams remained in the room and continued discussions to brush up on their business proposals through the feedback from the presentation. Most teams felt very enthusiastic and continued their discussion till midnight. It was tough for me as I would not use my brain this much, outside my research, but it was fun and gratifying at the same time. It was an immensely fruitful day and time flew by!!
The second day was aimed at visualizing the overall structure of the business in detail using a framework called the Business Model Canvas. We could grasp the image of potential customers in more detail and verify whether the value of the services and products matched with the potential customers. Then, my team discussed our business's core idea, such as the differences from the existing services, how to select target customers in more detail, what services are the best for selling, etc. It was fun for me to think about our services strategically one by one, comparing them with the current market. Also, to increase the feasibility of our business proposal, we created an image of our app, which succeeded in getting people's attention to our service in the camp's final presentation.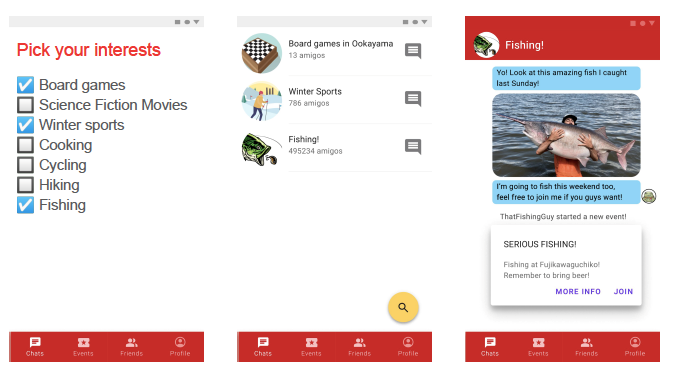 It was my first time participating in such a business program, and it wasn't easy to keep up with every task that was carried out at a rapid pace during the camp. However, it was a valuable experience to learn from the basics. Also, I was able to develop the ability to observe and analyze things with a multifaceted perspective and knowledge. This skill will enable me to find possible approaches to solving existing societal problems in the near future and will be useful in conducting my research. This program will continue until July, and there is still much work to be done. However, I want to keep doing my best with the team members until the end!