Hanami, which means "flower watching", is a traditional custom of Japanese to gather around cherry bloom trees.
During the virus, it becomes hard to go to the famous viewing spots in Tokyo such as Meguro River, Ueno Park, and Shinjuku Gyoen National Garden. In this case, we could also take a stroll in Suzukakedai Campus and marvel at the vibrancy of the many blossoms.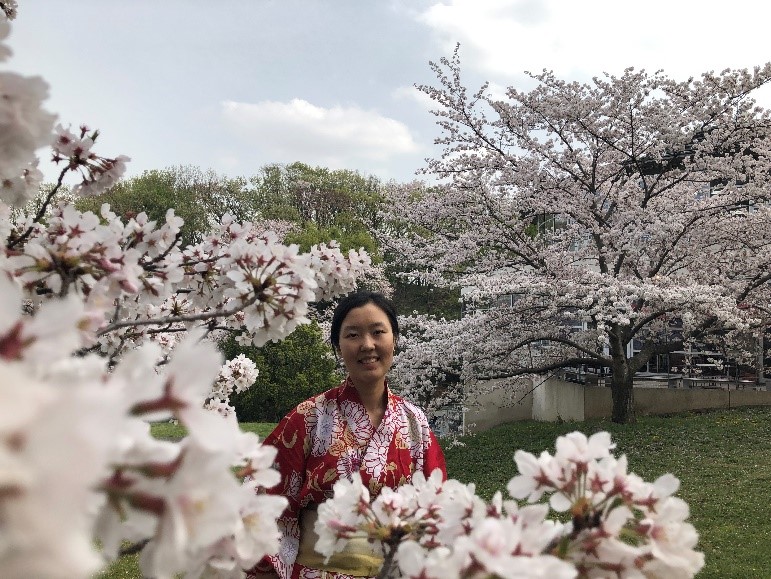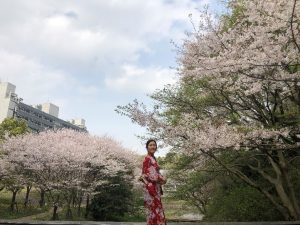 Aside from being Japan's top universities, Tokyo Tech is also known for the gorgeous Sakura flowers in front of the Main Building that blooms around late March and early April. Most of the Tokyo Tech on the internet shows this majestic view in of cherry blossom trees in full bloom in front of the Main Building on Ookayama Campus. But little would others know that the Suzukakedai Campus of Tokyo Tech has its also own beautiful hanami spots.
The first time I came to Suzukakedai Campus was to have an interview with my supervisor. It was late in the evening after a pleasant conversation, and the orange glow of the sunset was hidden beneath the mountains, adding a touch of low-key color. When I walked out of the building of the lab, I noticed a wide lawn and a cafeteria not far away. After dinner, I felt the tranquility around me through the cafeteria's floor-to-ceiling windows. At that time, I never thought that I would be so lucky to be a master's student and conduct my research in such a beautiful place.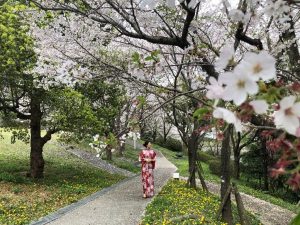 Time flies when I was taking courses, doing research, and taking part in various extracurricular activities. At the end of March, two of my close friends in the lab graduated. My research also encountered a bottleneck, I felt really upset. It was the time when the cherry blossoms (Sakura) were reaching full bloom. I thought I would put on my yukata, take some photos, and boost my mood!
I was taken aback by the beauty of the cherry blossoms. The lawn, surrounded by cherry trees, serves as the focal point. When there is a gust of wind, the petals spin down and fall like snow.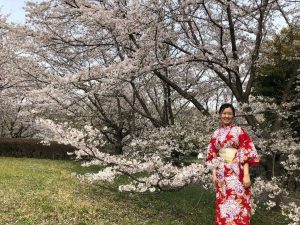 Japanese call it "Sakura Fubuki". In China, plum, orchid, bamboo, and chrysanthemum are praised by most people because of their unique characters, namely moral integrity and strength of character, nobility and self-respect, uprightness and modesty, and dignity and spirit of seclusion. When I was walking along a path lined with cherry blossoms, I was wondering if the reason why Japanese appreciate Sakura is also related to its symbolism of moral principles or a spirit that people believed in.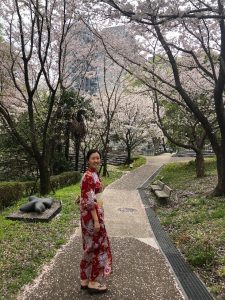 I think the philosophy behind that of shortly after Sakura is in full bloom, the wind starts to whisk it away, is that life is short, we need to make the most of it. This has something in common with "一 期 一会" or "ichi-go ichi-e" that is usually advocated in Japanese tea ceremonies. Even if the tea ceremony can be held many times with the host and the same guests, the situation at this moment cannot be reproduced. So every tea ceremony is the only one in the life. Inspired by Sakura, I realize that although I'm facing difficulties, I need to cherish this moment and devote all of my strength to overcome setbacks, because that is what truly propels me forward.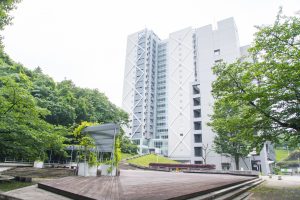 On the weekends, Suzukakedai Campus is usually quiet. We went there on a weekend and my friend and I laid out a picnic sheet, took out the bento we had prepared, talked with each other, and enjoyed this wonderful weekend. If you are in Suzukakedai Campus, I'm sure you'll also enjoy the scenery here!