Welcome to the vibrant student dormitory life in Odaiba, Tokyo. A taste of modern architecture in a spotless and dazzling manmade island surrounded by peaceful beach shores, busy shopping malls, futuristic museums, and bustling weekend events and festivals.
In this blog I will guide you through what is it like to live at TIEC, what facilities are there, how convenient the location is for Tokyo Tech students, and what to expect in your journey as an international student at TIEC.
Let's cut to the chase and answer the most important question… Is it worth it to live at TIEC?
Short answer: Yes!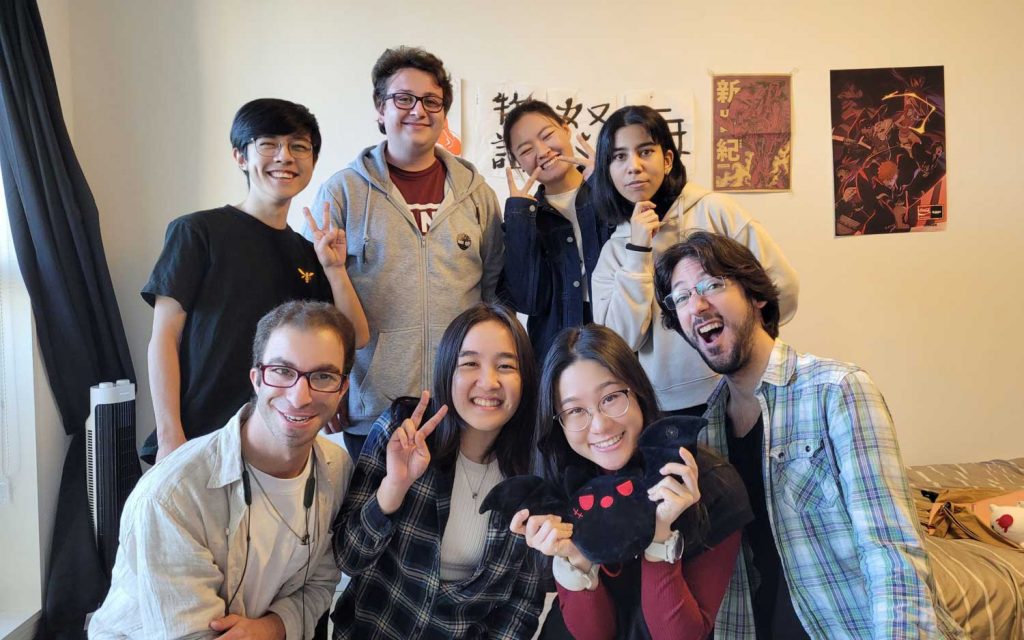 In my opinion, it is one of the best options for accommodations in terms of value that you can get in Tokyo, especially considering all rooms are individual studios/apartments and are not shared. Plus, you get to live in one of the most luxurious parts of Tokyo and enjoy a wonderful international community. So, if you don't mind a little longer of a commute and less accessibility to grocery stores and services in exchange for all the perks TIEC offers, this place is for you.
Let's start with an information dump.
What is TIEC?
Opened in 2001, TIEC dormitory, run by the Japan Student Services Organization (JASSO), serves as a hub for international exchange and offers accommodations not only specific to Tokyo Tech students but also to students from various universities across the greater Tokyo area, which makes it a wonderful opportunity to interact and make friends with many people of diverse majors and backgrounds.

Things I wish I knew before moving in:
How accessible is the location?
The two major train stations:
Tokyo Teleport Station (Rinkai Line) – 15-min. walk
Tokyo International Cruise Terminal (Yurikamome Line) – 5-min. walk
While Odaiba may not be the most central area for Tokyo Tech students, popular central areas like Oimachi, Ebisu, Shibuya, Shimbashi, and Tokyo Stations are almost all a direct train ride or within 30 minutes with transfers not factoring in the walk to the station nor train waiting times – a surprisingly convenient location for a university dormitory.
That being said, a number of points should be taken into consideration.
Invest in a bicycle – it will make life way easier.
There is free bicycle parking 3 minutes away from Tokyo Teleport Station.
Trains on the Rinkai Line are 8 – 15 minutes apart with dramatically decreased frequencies early mornings and late at night.
Commute time to Tokyo Tech:
The time it takes depends on whether you are using a bicycle or walking, taking a rapid or local train, and the waiting interval between trains on the Rinkai Line.
Ookayama – 30 to 50 mins
Suzukakedai – 1.5 to 2 hrs.
Owning a bicycle is a must:
Probably one of the best bicycle-friendly places in Tokyo, Odaiba's large pavements with designated bicycle lanes allow you to cycle with ease and help cut your commute time to grocery stores and train stations. It also makes for a good daily exercise!
Buses:
The eastern part of Tokyo and areas like the Sky Tree and Kinshicho train station etc. are hard to access from Odaiba, and they usually take many transfers and long train rides.
On weekends, there is a special bus going directly to these areas from Odaiba, which is very convenient.
Shops and services around TIEC:
Two convenience stores, each a 5-min. walk away
Supermarket – 20-min. walk
Shopping mall – 5-min. walk
Closest ward office – 25 mins by bicycle
Public gym and swimming pool – a few train stations away on the Yurikamome Line.
What are the rooms really like?
General description:
The TIEC complex has four main buildings: A, B, C, and D. All rooms in these buildings are individual apartments. Shared facilities, room sizes, and entry requirements differ by each building type. All are fully furnished.
Buildings A and B are for single individuals, which I will focus on more due to my experience living there, and Buildings C and D are for families.
| Building | Size (m2) | Monthly Rent* |
| --- | --- | --- |
| A | 20 | ¥35,000 |
| B | 30 | ¥52,000 |
| C | 80 | ¥74,500 |
| D | 100 | ¥86,500 |
* Water and electricity are not included in the monthly rent.
* Prices are as of 2023 and may change in the future.
* These are the rent fees for international students. Japanese students and independent researchers pay a different fee.
Which building should I choose – A or B?
Building B:
I chose to live in Building B, although it is more expensive, as I value my privacy. I have my own kitchen and my private washing machine unlike in Building A, where these facilities are shared. Of course, luck plays a factor in whether you get a room with a newer and/or better maintained air conditioner, fridge, bidet toilet, or washing machine. Even the floor and walls of your room may be cleaner or different. Also, the higher the floor, the better the view. The 14th floor is the highest.
In addition, the larger space in Building B allows me to have more friends over and the option to add more furniture or other things. One outstanding feature about TIEC rooms is that the walls are made of hard concrete so they are generally more soundproof than in many other places in Tokyo.
Building A:
The two main points of Building A are:
It is cheaper to rent, so if you are on a budget, it's perhaps the better option.
The kitchens are shared, and there are dining tables on each floor. So, if you love to be social, it is much easier to make friends and talk to new people in Building A, whereas in Building B, it's harder to have any interaction with residents.
However, the cleanliness of common kitchens depends on the residents. Personally, I think more often than not, they are not that clean.
What is special about this dorm?
Gymnasium:
I love to play sports such as volleyball and badminton. Perhaps the most amazing and mind-blowing feature that this accommodation has as compared to anywhere else in Tokyo is the multipurpose gymnasium, which you can book for free as a resident (a maximum of 4 hours a week and 2 hours a day) and enjoy your favorite sports.
This allowed me to connect deeper with and meet many amazing people from all over the world, who eventually became very close to me. I also was able to stay healthy and enjoy my hobbies without breaking the bank!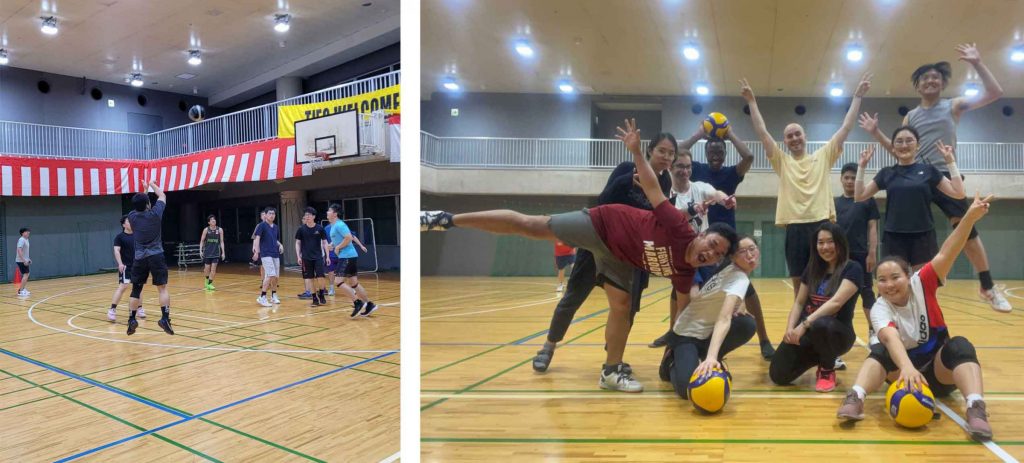 Training room:
It also has a very old training room with most machines barely working and a few weights. It is still good to keep up a good exercise habit, but I would suggest cycling to a nearby public gym, which is about 15 mins by bicycle, and subscribe to a monthly membership there.
Also, to use the training room, you need to attend a special orientation for which there are very limited slots that you can easily miss if you don't follow emails regularly. It took me almost 2 months to get a slot in the orientation.
Bustling weekends:
Odaiba, a weekend destination for many families and tourists, has many shopping malls and restaurants and tons of events, food fairs, idol practice shows, music concerts, and drifting shows happening all year round. It is pretty fun at times, but also can be super loud and noisy to the point it sometimes disturbs my sleep. But overall, I accept it as a good tradeoff for all the perks I get at TIEC. On weekdays, malls close by 8 PM. Supermarkets and restaurants stay open a bit longer. Since not many people live in Odaiba it can be quite empty on weekdays and extraordinarily crowded on weekends.
Availability of Part-Time Jobs:
There are plenty of part-time jobs in the area for international students, such as in shopping malls and in hospitality as well as English teaching. So many TIEC residents can work very close to home without needing a train commute.
Final Remarks
TIEC is not just about living in a dorm; it's about embarking on an unforgettable journey, creating lifelong memories, and finding a home away from home. Being part of this vibrant and diverse community has been an incredible experience that I'm happy I could share with future residents and students from Tokyo Tech.