At Tokyo Tech, our campus is a melting pot of cultures, where the world comes together to create a truly enriching academic environment. Our diverse community is a tapestry woven with vibrant threads of international students and ethnic groups, each contributing their unique colours and patterns to the fabric of our university life.
International students are the heart and soul of any university campus. They bring with them a wealth of perspectives, experiences, and traditions from their home countries, fostering a global mindset among their peers. Similarly, ethnic groups within the university provide a rich mosaic of cultural heritage. They offer students a chance to experience a plethora of customs, festivals, languages, and arts, transcending borders and creating a microcosm of the world. By celebrating diversity, we at Tokyo Tech aim to build a strong sense of community and unity that can withstand any challenges. Read about the ethnic groups that make up the student body at Tokyo Tech whose presence transforms our institution into a hub of inclusivity and excellence. Let us cherish this diverse tapestry and nurture an environment where everyone feels valued, appreciated, and empowered to thrive. Together, we will continue to shape compassionate leaders and global citizens who will positively impact the world.
Ethnic Group 1: Thai Student Association of Tokyo Tech (TSA)
Headed by: Supawich Jiarakul (Nop), M2, CS, Ookayama, 2023 – 2024
Thai Student Association (TSA) under the presidency of Nop is prominent in connecting and bringing together Thai students across all campuses of Tokyo Tech. As of now, Tokyo Tech has approximately 100-150 Thai students with about 40-50 actively participating in TSA events held periodically throughout the year. Nop believes that though it is a good opportunity to make new, international friends when you go somewhere to study abroad, having friends who speak your mother tongue and grew up in similar cultures could bring home closer and be a comfort zone on difficult days. Another mission of this community is to be a representative body to the Thai Student Association in Japan (TSAJ). TSA also holds activities and events with Thai student associations from other universities across Japan and other countries through TSAJ as well.
Q: What are some notable activities or initiatives that your group is known for?
Nop: Our main activities are mainly the "Welcome Party" to welcome and connect new students and the "Farewell Party" to celebrate and say farewell to those who have graduated each semester.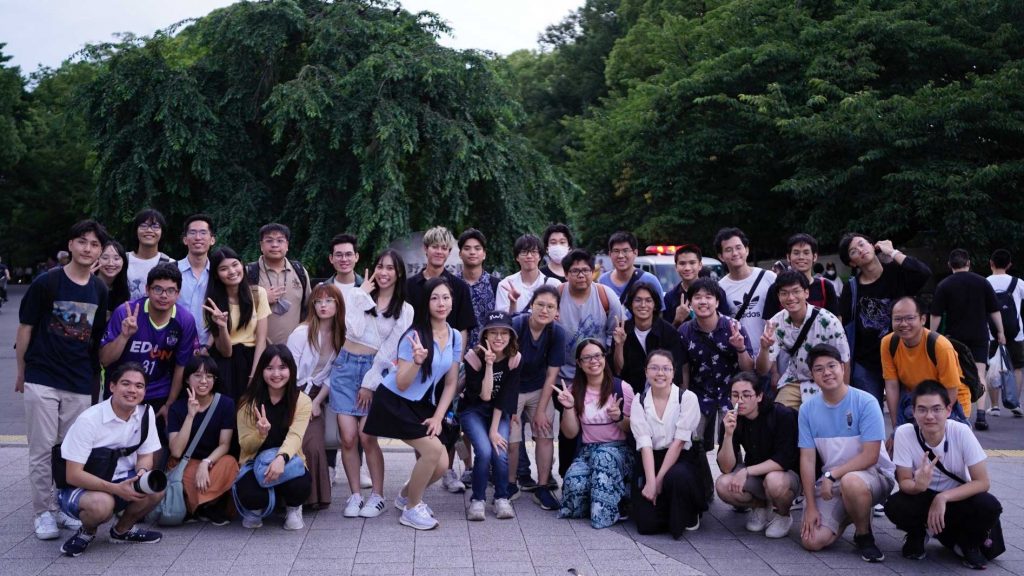 Q: What Thai restaurant would you recommend as the best choice for experiencing authentic Thai cuisine?
Nop: Personally, I can recommend a restaurant which offers Northeastern-style Thai dishes. They are very popular across Bangkok and Thailand but are not yet well known in Japan. The dishes are usually a little spicier than typical Thai food but you can adjust the spicy level when you order. They have two branches in Tokyo at Toranomon and Yoyogi station, please kindly check them out or contact me through our Facebook.
Nop believes that Tokyo Tech has done especially well in terms of facilitating international student communities, and he hopes they will continue on this path. For the Thai newbies to the university, TSA has a Facebook group that you may access through this link: https://www.facebook.com/groups/139052856144586
The whole team of Student Ambassadors and the Tokyo Tech admissions thank the TSA committee and Nop for his insight into TSA and for helping spread awareness about Tokyo Tech in Thailand.
Ethnic Group 2: Indian Students Association at Tokyo Tech (ISAT)
Headed by: Sameer Deshmukh, D4, CS, Ookayama campus, 2022- 2023
The Indian Students Association at Tokyo Tech (ISAT) works as a platform for connecting and supporting the current and incoming students at the Institute, particularly the students of Indian origin. As a representative of India, the group also aims to promote and introduce Indian culture to students through various activities like get-togethers, day trips, workshops, and cultural events.
Q: What is the approximate number of people in your student group?
Sameer: Our group isn't that big as compared to our counterparts like the Thai or Indonesians. However, we have approximately 30 active students on all the campuses of Tokyo Tech.
Q: What are some noteworthy activities or initiatives that your group has become recognized for?
Sameer: Our Diwali and Holi events see wide participation. We collaborate with the Indian Embassy and other Indian student groups in Tokyo to make our events grand. Not only do the students of Indian origin join, but our events are very welcoming to the participation of foreign students and Japanese locals of all age groups. We also organise a welcome party every year to welcome the newly admitted Indian students.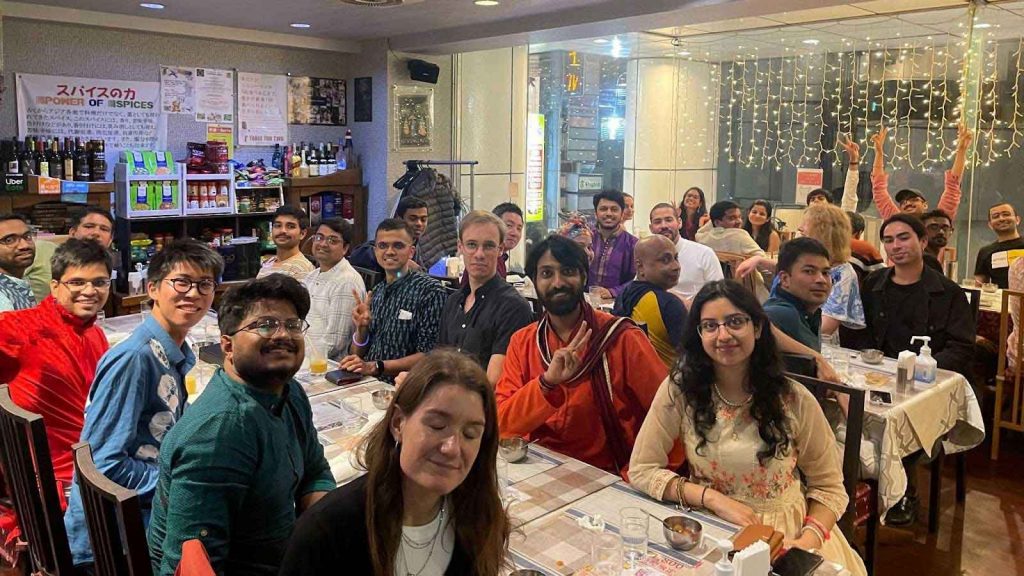 Sameer believes that Tokyo Tech is a place where people from diverse backgrounds come together and exchange ideas freely and without fear. The university gives every student ample opportunity to fully realise their unique talents and carve their niche in the world. The research capabilities of the professors at Tokyo Tech, coupled with collaboration with universities from all over the world make the way for solving challenging research problems.
Q: What Indian restaurant would you recommend as the best choice for experiencing authentic Indian cuisine?
Sameer: If you have a craving for South Indian cuisine, there is a restaurant near Musashi-Kosugi station, and if you feel like having a good North Indian meal, Futagotamagawa hosts several good restaurants with North Indian cuisine. Connect with us and we will take you there!
ISAT has an active Facebook group and two WhatsApp groups (one for each campus) where students can communicate with each other and share their concerns in a safe environment. The best part about being in this ethnic group is that every year, the new incoming students get invited for a meal with the staff at the Embassy of India in Tokyo. This makes us and all the students feel very homey and connected to each other. Incoming Indian students can contact ISAT at the following addresses:
Facebook – https://www.facebook.com/ISATiTech
Website – https://www.isatjapan.com/
LinkedIn – https://www.linkedin.com/company/indian-student-association-at-the-tokyo-institute-of-technology/about/
Email – isatitech@gmail.com
Q: How does your group facilitate networking opportunities for Indian students to connect with alumni or professionals in their respective fields?
Sameer: We connect our students with hiring agencies that want to hire Indian students for Japanese companies. Japanese government agencies like JETRO make use of our communication channels to promote hiring events.
Organisations like the ISAT not only help students get used to living in Japan but also provide support after they graduate. Tokyo Tech admissions team thank ISAT and Sameer for their efforts.
Ethnic Group 3: Korean Students Association at Tokyo Tech (KSA)
Headed by: Namkyong Kim, B3, MSE, Ookayama campus, 2022- 2023
Q: Could you provide insight into the objectives and mission that your ethnic student group aims to achieve?
Namkyong: Our group has two goals: Exchange between Korean students and information on employment activities for them. Living in another country is difficult to adapt to and can make one feel very lonely. To adapt well to life in other countries, you need friends or seniors who can help you. To make an environment where Korean students can easily adapt, the first goal is to promote exchange between Korean students. Second, providing information on employment activities is another one of our goals. International students are in a different situation than Japanese students, and they are likely to have difficulties regarding employment activities. We have contacted Korean companies and created opportunities to get information about jobs and career counselling on campus.
KSA boasts about 80 students in the group, wherein about 30 are active. There are 2 general meetings in a year. Students participate in this meeting and exchange pleasantries with each other while eating delicious food. In addition, KSA also holds job-briefing sessions on campus with Korean companies such as LG and Samsung. Though the frequency varies every year depending on the company schedule, it is held 3 to 4 times per semester, which is highly appreciated.
Q: Which Korean restaurant would you suggest as the top option for immersing oneself in authentic Korean cuisine?
Namkyong: There are many Korean restaurants in Shin-Okubo. But most restaurants are very expensive. There is a restaurant that sounds similar to a famous Japanese anime. Their food is very reasonable and delicious. Above all, it tastes very similar to Korea. Feel free to drop me a message through the links given below to know more about that restaurant.
If you are curious about KSA's activities, have questions, or simply want to chat, KSA has a couple avenues through which you can reach out and get involved, two of which are via E-mail at titechkorea@gmail.com or the website at www.titechkorea.co.kr.
The Tokyo Tech admissions team expresses its heartfelt gratitude to Namkyong and the KSA team for participating in "Koudai-sai (Tokyo Tech Festival)" and selling Korean food to promote Korean culture among Tokyo Tech students.
As you can see, exposure to different cultures enrich extracurricular activities, leading to a vibrant campus life. Festivals, cultural showcases, and international food fairs bring everyone together in celebration of our shared humanity while revelling in our beautiful differences, all in one place, i.e., Tokyo Tech. In conclusion, international students and ethnic groups are the lifeblood of Tokyo Tech. Let us cherish this diverse tapestry and nurture an environment where everyone feels valued, appreciated, and empowered to thrive. If your ethnicity is not mentioned in this article, fret not, for there are even more ethnic groups in Tokyo Tech which will be introduced in the coming parts of this series.