Is Tokyo well known for technology and revolutionary encounters? In my eyes, yes. It's a perfect mesh of modernity and tradition where both thrive side by side. In this blog, I'll tell you about two places in Greater Tokyo where you can take a stroll through history.
When we come to Tokyo, we are mostly interested in visiting top-rated areas like Shibuya, Harajuku, and Odaiba to experience what is notably one of the most fascinating and huge capitals in the world. However, Tokyo is not just a fabulous place to experience modern Japan. There are also so many stunning places to see the more traditional and historical side of the country, one that is so vastly different from the modern metropolis we know, and yet possesses the same captivating spirit. The uniqueness of Tokyo and its environs for me is the simultaneous convergence of modern boldness and tradition, and their potent coexistence. Within an hour's journey from the city, you can walk through the charming atmosphere of the Edo period and see how people lived — the traditions, the architecture, and the character of old Japan. If you're interested in going back to when the shogun and his samurai ruled Japan, then read on as I share my experience of visiting two of these inspiring places in the Greater Tokyo Area.

1- Nihon Minkaen Folk House Museum
One of the greatest ways for me to find out about ancient Japan was definitely visiting the Nihon Minkaen Open-Air Folk House Museum. It's not so well known and you don't see many tourists there. The Japanese word "anaba" is often used to describe such little-known spots.
At the Folk House Museum, you can walk through ancient Japanese villages from the 17th to early 19th century without leaving Greater Tokyo, and also try your hand at indigo dyeing. Located in Kawasaki city, 15 minutes walk from Mukogaoka-Yuen station on the Odakyu line, it includes various traditional farmhouses including a gassho-zukuri farmhouse from the Shirakawago area, samurai houses, merchant houses, houses from post towns, homes from fishing villages, a shrine, and a kabuki stage (Fig 1).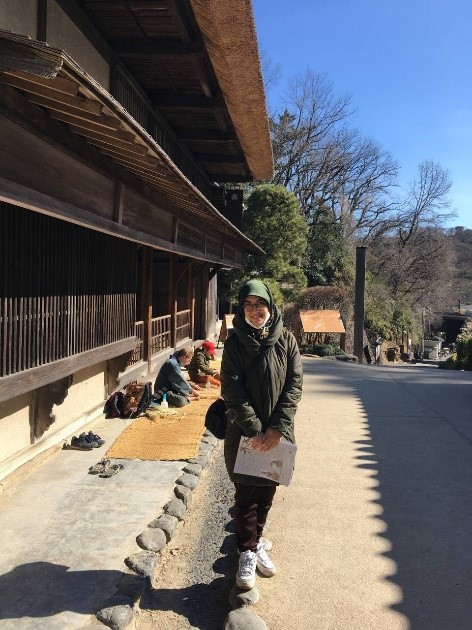 You can see 24 recreated historical houses from 15 different prefectures arranged in five areas according to their original location — Post Town, Village in Shin-etsu, Village in Kanto, Village in Kanagawa, and Village in Tohoku. I visited this wonderful place with the Kanagawa Systematized Goodwill Guide (KSGG) Club, a non-profit voluntary organization that provides different volunteer activities for foreign students. Tickets cost 500 yen with a 200-yen discount for students with an ID card.

First, we entered the exhibition hall where the folk houses' design and construction were displayed along with illustrations of the lifestyle and tools and other equipment of ancient people (Fig 2). You can see how the houses on the slopes and mountains were built differently from the houses around the sea. Then, we started the most astonishing part of the museum tour and entered the village areas to see how people lived in those times. There were various old-fashioned houses on the way, each from a different era and part of Japan. We could see the traditional houses up close and how the inhabitants shaped their lifestyle according to their needs and available resources. We were walking through history! I closed my eyes and could hear children running around and laughing inside the wooden houses, and a woman talking while preparing food on the fired stoves. The men were repairing the roofs of houses outside, and the whole village was engaged with vitality and friendship. Filled with excitement and admiration for past generations, I realized how effective ancient people were at using materials and assets to properly meet their demands.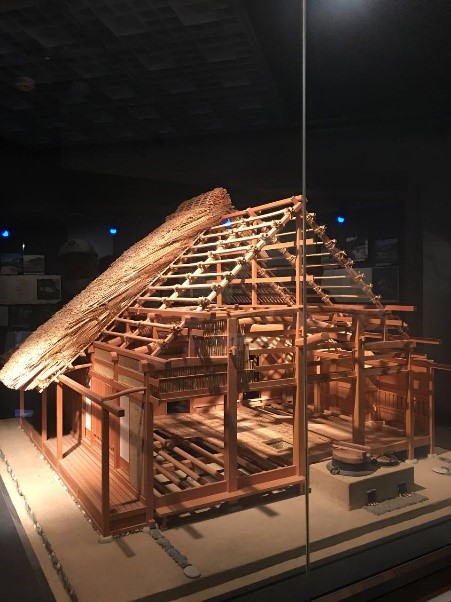 The houses were full of interesting innovations the ancient people used in their daily lives. We could see how they cooked foods, traded, built houses, and kept their animals. Certainly the most eye-catching and charming houses of the museum were the ones recreating the famous Shirakawa Village houses (Fig 3). A UNESCO world heritage site, Shirakawa Village is famous for traditional gassho-zukuri farmhouses, constructed with sharp roofs that resemble hands in prayer to keep the houses safe from heavy snow. You would be surprised how people built those massive roofs all from straw and wood, without any nails or metallic materials. The guide said that roofs were repaired every thirty years, and all villagers helped as it was a really tough activity. We gathered around the fire used in houses for cooking and to keep the people warm, and tried to feel the spirit of the villagers' lives (Fig 4). The houses were completely made of wood with elegant joints, and we rarely saw the clumsy use of stone. There is a lot to say about these houses and villages. However, I must keep this blog brief and move to the next exciting experience at this museum.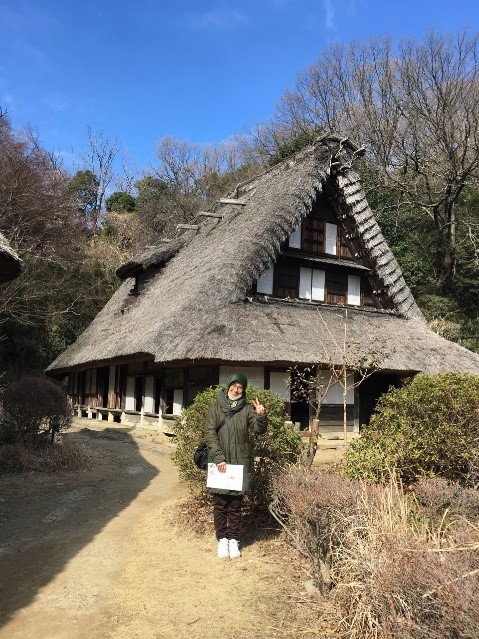 Even if you have never heard of indigo dyeing, or "aizome," you probably may have noticed the blue and white cloth used for kimono or haori in old Japanese samurai films and paintings. This dyeing method's popularity dates back to the Edo period, when brighter colors were reserved for the higher social classes. The raw material necessary is indigo ("ai") extracted from the Japanese indigo plant. Tokushima, one of four prefectures in Shikoku, is one of Japan's main producers of natural indigo dye. It produces blue-based fabric with various white patterns made by hand using different methods. It was the fabric that warriors preferred to wear beneath their armor. The samurai valued aizome not only for its beauty but also for its antimicrobial properties, which helped prevent rashes and other problems caused by chafing and perspiration.

We tried aizome in the museum with a piece of white cloth. We paid 600-1200 yen depending on the type of cloth used. You also need to check the times of the workshop and make a reservation before going. First, we learned how to make various patterns and shapes with simple tools like wood and marbles, or by tying and gripping the fabric (Fig 5). After that, we started building patterns and then soaked the cloth in a vat of dye several times. Finally, we washed it in cold water and dried it (Fig 6). The most breathtaking part was removing the chopsticks that held the fabric in place and unfolding it to see the final results. They were all marvelous — dazzling white circles floating on a translucent blue background like white morning glories blooming against a deep blue summer sky (Fig 7).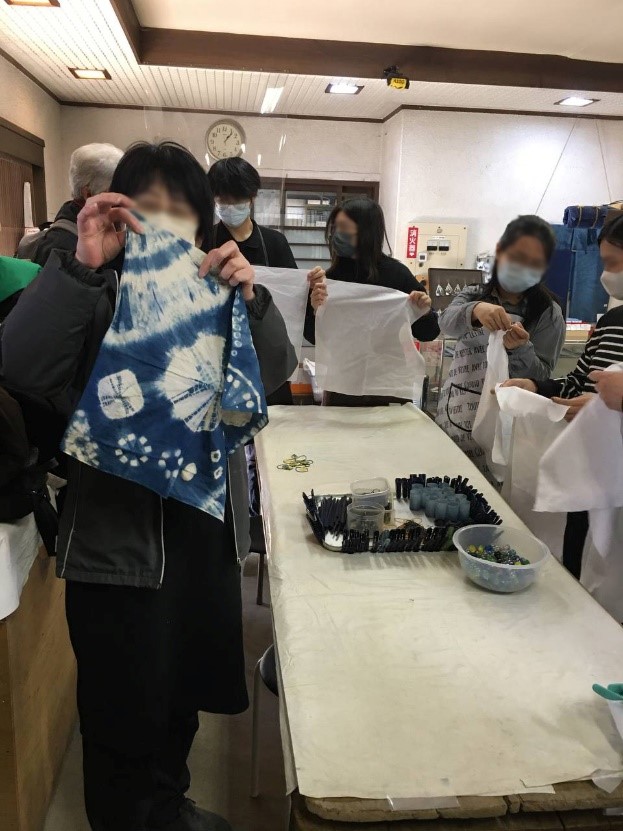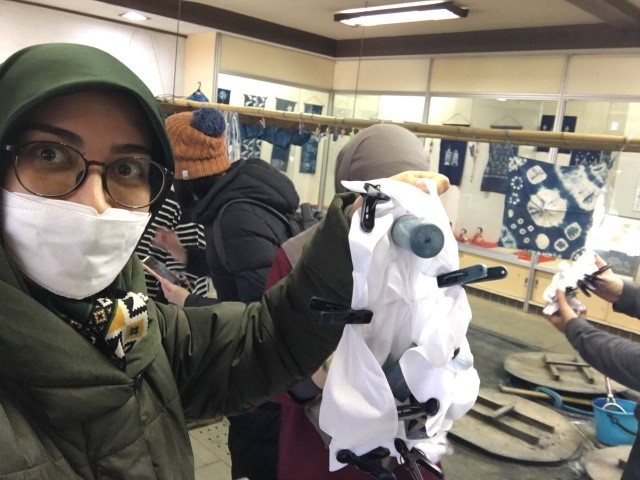 2- Kawagoe
The next experience was a Japanese castle town northwest of central Tokyo that should be more familiar to foreigners and tourists. Located in peaceful Saitama, Kawagoe (also known as "Ko-Edo" or "Little Edo") is another perfect place for feeling like you've stepped back in time. It only takes 30 minutes by train from Ikebukuro station to Kawagoe station. "Edo" is the old name for Tokyo, and the Edo period (1603-1867) is an important part of Japan's history. But what exactly awaits you in this traditional town? When I reached Kawagoe with my friends, we saw many unique old buildings that seemed to be a combination of black and gray — something that I had never noticed in Tokyo. Some are houses that survived a great fire in 1893, now mostly converted into shops and restaurants. There are lively and crowded streets with lots of people walking on both sides to browse traditional crafts, miscellaneous shops, souvenirs, and delicatessens. You will even see a Starbucks designed in the old style of Kawagoe's "kurazukuri" houses which perfectly blends in with the atmosphere!

As we walked, we noticed a majestic bell tower ("Toki no Kane") which has burnt down several times in the past and is probably the most iconic symbol of Kawagoe. We asked about the history and discovered that the story goes back to a merchant who rebuilt the tower before rebuilding their own shop because of its importance. The current one is the fourth bell to have been rebuilt.

Next, we stopped at 1500-year-old Hikawa Shrine, which has one of the largest wooden torii gates in Japan. The shrine is known for its blessings for love and marriage, and people have historically worshipped there for matrimonial and family happiness, and to the deity of matchmaking. A new experience for me was "aitai mikuji" fortune telling, which involves fishing for a sea bream-shaped "omikuji" (paper oracle) with a small rod (Fig 8). We then walked through a tunnel of "ema" (wooden prayer plates) filled with people's wishes for love, marriage, and so on. Pinwheels were hanging all around and spinning gently, blown upon by visitors or the wind (Fig 9). Lots of girls and boys dressed in traditional kimono or haori made the atmosphere more historical, and it felt to me as a foreigner that I'd travelled a hundred years back in time and was a part of Akira Kurosawa's marvelous films. There are other interesting things to see at Hikawa Shrine and nearby areas that require you to spend more time.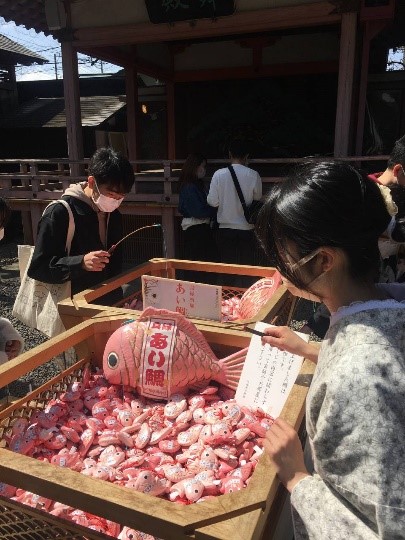 Let's stay with the theme of calm and tranquility for a while longer and finally visit Kawagoe Castle (Honmaru Palace) for only 100 yen. There are reminders of the former castle town in various parts of the city, and you can feel history and modernity as one (Fig 10). Inside, you can walk around and feel the spirit of traditional Japan with some ancient clothing and items from the Edo period (Fig 11). In this wonderfully warm, nostalgic, and quiet place with big rooms facing a beautiful garden, we relaxed and enjoyed the sun on our faces for a little while.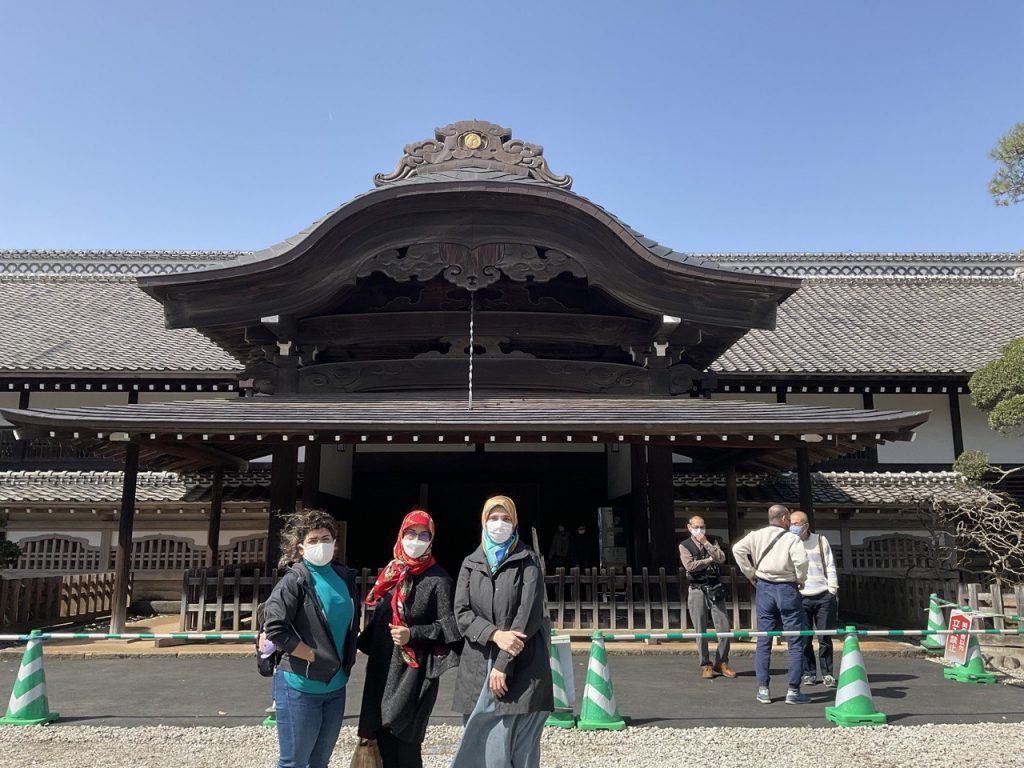 It is said that without knowing history, we have to experience everything again ourselves. There is a lot to know and grasp from ancient lives and from contemplating how future generations will remember us. The journey of life is stupendous! I hope you enjoyed hearing about my experiences and found them useful for planning your own history-harvesting adventures in Tokyo.