In our busy life with research and study, it is difficult to spend time on a proper tour plan and execute the plan accordingly. Today, I want to share my experience of spending a day closer to nature with flowers and other natural beauty in Hitachi Seaside Park so that it can be helpful to others to have a detailed idea about the park and can plan a sudden trip without much prior preparation.
To have relief from this busy life of Tokyo, I went to Hitachi Seaside Park, which is located in Hitachinaka City, Ibaraki Prefecture, with my wife. We chose to go there in the middle of spring when the iconic Nemophila flowers and the sky are in a harmony with their blue radiant. On the day, we went to Ueno Station at first from where we bought the ticket for the Limited Express train and started the journey at 9:30 am. It took around 1 hour and 30 minutes to arrive at Katsuta Station. The train journey was very relaxing with the morning view of greenery natural beauty over the window. While enjoying the spectacular view of nature, it felt just a matter of a moment to reach Katsuta Station. We took a bus to Hitachi Seaside Park from the Katsuta Station and within 15 minutes we arrived at our destination. There were so many things to make us amazed by their beauty in the park. The first one in this list was the Tulip flowers with over 10 different colors in their full blossom.

After enjoying the beauty of Tulips for around 30 minutes, we went to visit the center of the attraction of this park, the mighty Nemophila. Nemophila was shining with mimicking the color of blue sky all over the Miharashi hill. From the top of Miharashi hill, the view of ocean on one side, greenery tree with yellow Canola flower on another side, blue ground with Nemophila
covering a huge area, and the clear blue shiny sky over the head were breathtaking. We enjoyed the beauty of Nemophila while climbing the hill and walking around the area. There were various types of street food in the park and after enjoying the view of Nemophila we had our lunch from
a street food shop. After that, we rode on Ferris Wheel and the view of the park from the top was incredible. Along with Ferris Wheel, there were also other rides for kids and adults. As we had limited time, we only experienced the ride on Ferris Wheel.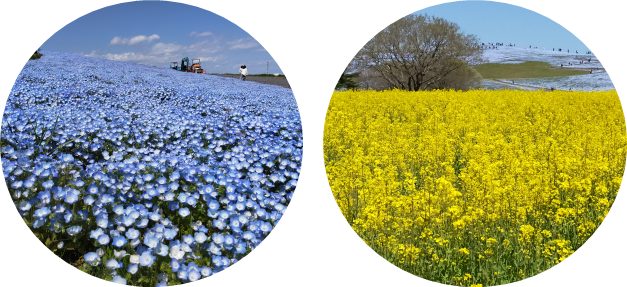 Playing golf in the park with this much natural beauty around can be a good option to anyone and I highly recommend trying this one. We also visited the herb garden and the area representing a small village which gave us a relaxing feeling. In the afternoon, we ended our trip there by enjoying ice cream whose taste was worth remembering We took the train at around 5:30 pm from Katsuta station and reached Ueno station at around 7:30 pm. Within a day trip we enjoyed a lot of things that helped to release our stress and we were revived enough to restart our research and study to a full extent. The tour to Hitachi Seaside Park is time and budget- friendly yet very enjoyable that can take place in our recommendation list easily.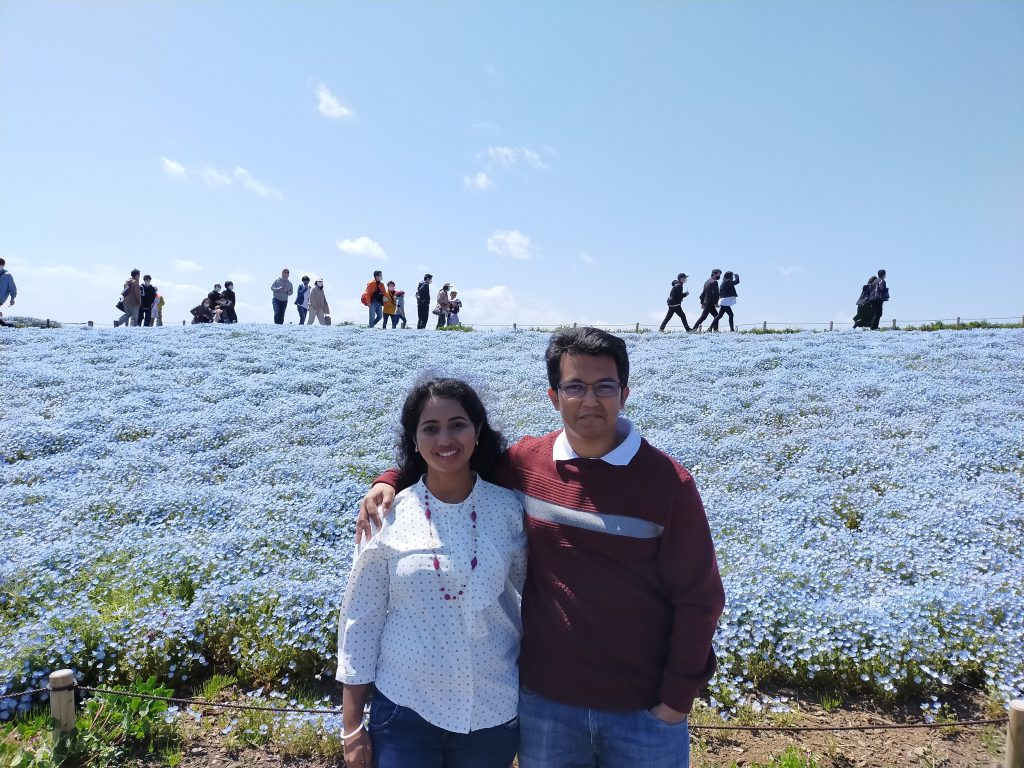 We always used the mask and hand sanitizer during this tour. Please be careful about Covid-19 when you will make a tour.