On the 5th of December, I had the opportunity to participate as a presenter in the Online University Visit for the Sakura Science High School Program.
This event was jointly organized by Tokyo Tech and Japan Science and Technology Agency (JST), a Japanese research funding agency. Annually, JST invites talented high school students from all across the world for short-term visits to Japan under the Sakura Science Plan, providing them with the opportunity to experience both Japan's cutting-edge innovation and unique culture. However, due to the COVID-19 pandemic, the program was cancelled this year. Therefore, this virtual university visit event was held through Zoom and Youtube Live to give high school students abroad a taste of what it is like at the Tokyo Tech campus.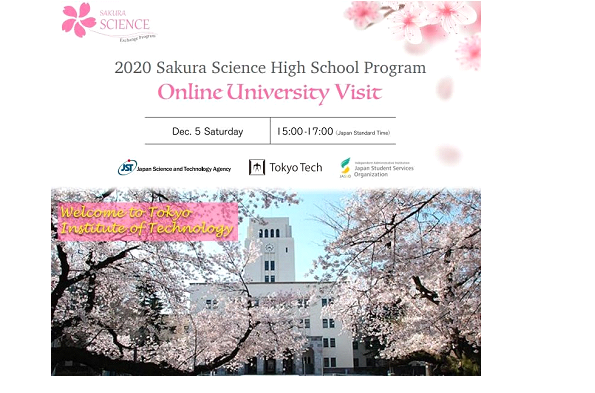 During the online event, we first had opening remarks about JST activities and the Sakura Science Plan from Mr. Shinichi Kuroki, the Director of the Department of Sakura Science. Then, Dr. Kazuya Masu, the president of Tokyo Tech kindly gave a welcome speech. We also had Dr. Takushi Saito, Associate Professor in the Department of Mechanical Engineering, who gave a brief introduction of our university. Next comes the main event – a live lecture by Dr. Akira Kudo, who was a professor in the Department of Life Science and Technology. Dr. Kudo gave a lecture about his laboratory's research, particularly on Medaka, or Japanese rice fish which were sent to the International Space Station. The fish were used as models to study the effects of microgravity on bone mineral density. Participants of the event were able to respond to Dr. Kudo's questions in real-time through the polling feature in Zoom. 
After Dr. Kudo's lecture, Ms. Tsamara Tsani and I took turns presenting about our student life at Tokyo Tech and in Japan. Ms. Tsani is a second-year master's student from Indonesia. In her presentation, she talked about her journey of getting into Tokyo Tech, from attending Japanese language school, to applying for the bachelor's degree programs at Tokyo Tech, and now pursuing a master's degree. She introduced how life is like joining a laboratory, such as participating in zemi. Zemi are seminars unique to Japanese universities where students present papers and have discussions with their lab members.
For my presentation, I decided to talk about my freshman experience as I figured that it might be helpful for the high school students. Besides sharing a look at a day in my life as a Tokyo Tech student, I also introduced the incredible support given to international students from the university. There is a wide range of events throughout the year to help international students adjust to life in Japan. For example, Tokyo Tech International Student Association (TISA) organizes the International Welcome Week so that students could get to know each other. One of the most memorable events that I joined in my first year is called Tokyo Orienteering. It is organized by Student Association for Global Exchange (SAGE) every spring and autumn semester. In Tokyo Orienteering, I got to solve missions along with students from different nationalities while touring around Tokyo city. To me, it is the best way to explore the city (and learn about secret spots that only the locals know). It was such an exciting experience that I almost felt like I was in the Amazing Race.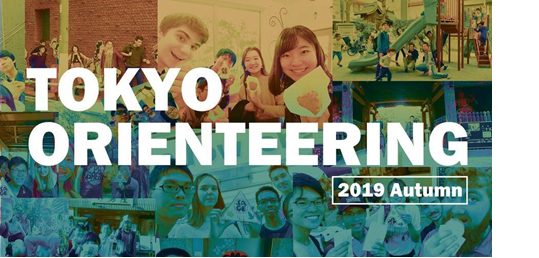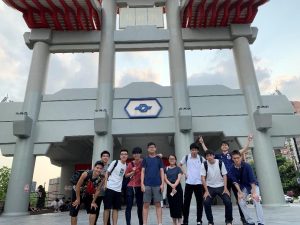 Study abroad opportunities are also abundant, even for international students. In 2019, I spent three weeks in Taipei participating in the Capstone Design Project Course (CDPC) held at the National Taiwan University of Science and Technology (Taiwan Tech). I had the opportunity to attend classes taught by both Tokyo Tech and Taiwan Tech lecturers on the theme of "AI City Challenge". Together with Taiwan Tech students, we designed and built bipedal walking robots which could navigate themselves through a maze. It was truly a fruitful learning experience. I made many friends from Taiwan Tech, and also learned a lot about Taiwanese culture thanks to them.
After the presentations, the Japan Student Services Organization (JASSO) briefly gave an introduction to the Study-in-Japan Program. There was then a Q&A session at the end of the event. We received many questions from the participants, but unfortunately, due to time constraints, not all of the questions submitted could be responded to.
The president of Tokyo Tech who is active on Twitter also tweeted about this online event:
"Sakura Science High School Program Online University Visit. It seems that not only high school students from Asia but from all over the world are watching in real-time. There appears to be over 10 thousand viewers. The story of medaka fish that went to space."

With the recent rollout of the COVID-19 vaccine, hopefully in-person campus visits could be resumed again next year. I hope that my presentation was helpful to anyone interested in Tokyo Tech. In the meantime, let us remain resilient and look after each other!