As I gently closed the lid of my laptop, the click sound it made was like a constant acoustic reminder of my new normal as a student.
I just finished attending a two-hour lab seminar via Zoom in the morning and all the voices on the other line fell silent in unison when the call was ended. The moment I folded the lid of the laptop to a close, the lids of my eyes followed suit and shut like a habitual response. While a two-hour Zoom meeting no longer gives me unsettling feelings, I cannot deny that it still drains my energy. After resting my eyes for a minute and loosening my tight shoulders for a bit, I proceeded to the kitchen and made myself a cup of coffee. I have another Zoom meeting in an hour – the third of my four for today.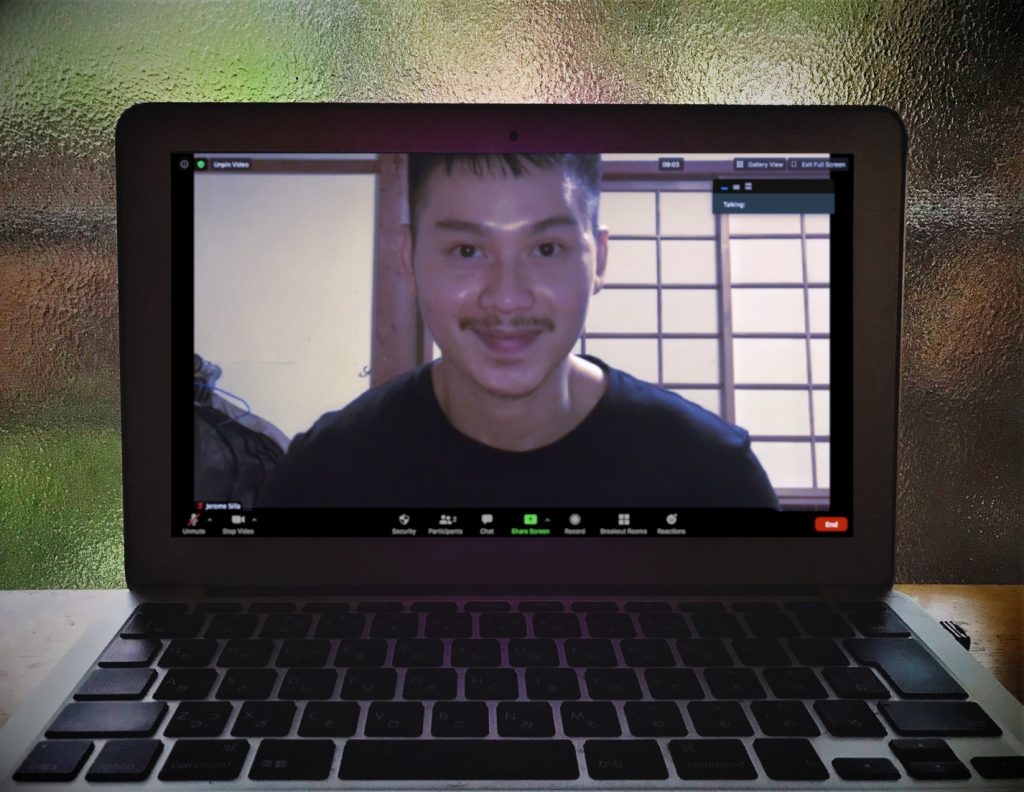 Altered Lives
August is now nearing, and the end of spring semester for 2020 is coming close. Tokyo Tech has asked the general public, students included, to refrain from entering the Institute's premises for the time being. Hence, all classes have been remotely conducted since May. At that time, my research field work abroad was put off indefinitely, and the next few weeks were nothing but full of re-planning. And while my past three months since then have been of limited opportunity, nuggets of support and assistance have been showered upon me amidst the pandemic.
Life during COVID-19 alters many of our daily activities, and mine was particularly shaken. As a fully self-supporting student, the onset of the state of emergency in Tokyo declared in May had rendered me incapable of finding part-time work to earn sustenance income. Progress of my doctoral research and other academic activities were also temporarily halted primarily due to not having a fixed internet connection at home. I do have sluggardly mobile broadband capped at five gigabytes per month, which is already a luxury for many economically vulnerable families across the globe. Looking at the big picture, the reality is that I am on the privileged side of the digital divide. Yet, deep contemplations still had me consider suspending my doctoral program. I was at my wit's end until Tokyo Tech sent an information about free mobile Wi-Fi routers to be provided to any student of the Institute who wishes to apply.
Watershed Moment
My third Zoom meeting today is an online teaching assistant (TA) job for one of the courses at Tokyo Tech. Receiving a free mobile Wi-Fi router last May was a watershed and a catapult that helped me find three part-time TA positions online. Furthermore, Tokyo Tech Academy for Leadership (ToTAL) where I undergo a specialized leadership curriculum also advanced the scholarship payment to its students in order to alleviate the manifold impacts of the pandemic.
Now that I have found my rhythm, a day without a Zoom meeting may sometimes feel odd – lonesome, even. Despite the physical distance, the online calls have become my new form of socializing, and socializing, however peculiar this virtual form is, remains essential for our well-being.
For international students like us who live alone, we are adept at adapting to an ever-changing environment – a weapon we learned to sharpen first in order to survive a life in foreign lands. Surviving alone in this unprecedented crisis is out of the question, and my personal experience led me to trust the power of a united community. And our Institute pledges at its utmost capacity to lend students a hand in order to make sure that no one will be left behind.
Once I leave my fourth online meeting room later, I will press down the lid of my laptop for the final time today. As I hear the click sound once more, this time, the instant I close my eyes afterwards is a moment to be grateful for my daily little triumphs throughout this COVID-19 tragedy. Despite many restrictions are still in place, after all, social distancing is not a foe but a friend who has somewhat become familiar. And I am looking forward to my next Zoom meetings, until campus life gradually shifts back to normal.