This article is specifically written for prospective Muslim students around the world who are planning to pursue their studies at Tokyo Tech, but are worried about food options in the vicinity of the campus.
Coming to a new country is already a challenge that is further amplified by the worry of not finding Muslim-friendly food. It may be a great issue of concern for many Muslim students when they are first time moving to Japan, as it was for me. Honestly, I had no idea about the availability of halal food before coming. Although the details of halal are a deep discussion, to explain it simply, Muslims can eat meat and other animal derivatives when the animals are slaughtered in a certain prescribed way. Therefore, it gets tricky finding meat and other items made from animal derivative ingredients in foreign countries. So, in this blog, I shall write about halal food options for Tokyo Tech students.
My classmates often have lunch together during the break. I used to wonder whether I could join them. Well, it turned out I actually can. Fortunately, there are some halal-friendly items in the campus cafeteria. These items are ok for Muslims to eat. The miso soup with salt-grilled mackerel and rice and the sakedon are so delicious. Now, often I find myself craving campus cafeteria food.

Note: The sakedon is normally provided with a sauce that is not halal-friendly. Please ask the staff to provide it without the sauce.
Our campus has many places where students can enjoy food close to nature. I love to eat on the wooden deck in front of the main building under the shade of a tree. I often buy the bento box in the following picture (right) from the co-op store. I was really happy when I found out that I could buy halal chicken and rice curry bento on campus.

Moreover, the co-op store has a specially designated section for halal-friendly items. Because I came to Japan during COVID-19, I did not move around the campus unless it was for something very important. So, I did not know of this for the first few months. It was one of my Japanese classmates who took me here. You can buy various drinks, cup of noodles, curry packets combined with rice, and more. I am confident that, in the future, the options will increase even more both in the store and the cafeteria with the rising demand for halal-friendly products.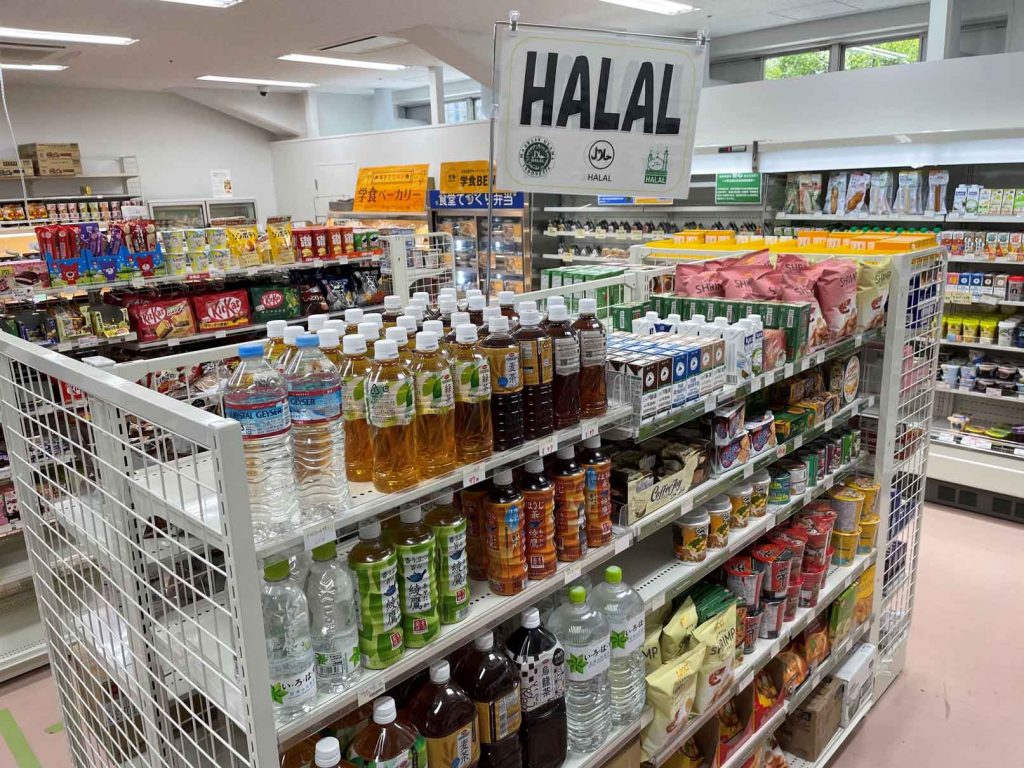 Let me tell you another story. Every day, apart from the school cafeteria, additional food trucks (usually two) come and sell different foods near the campus's main building (in Ookayama). Last Friday, I was talking with my Muslim friends, saying that I wish the trucks would provide some halal options. Interestingly, on the next Monday, I figured out that one food truck in fact provides herb chicken and rice where the chicken was halal. I immediately shared that with my Muslim friends here and we had a meal together.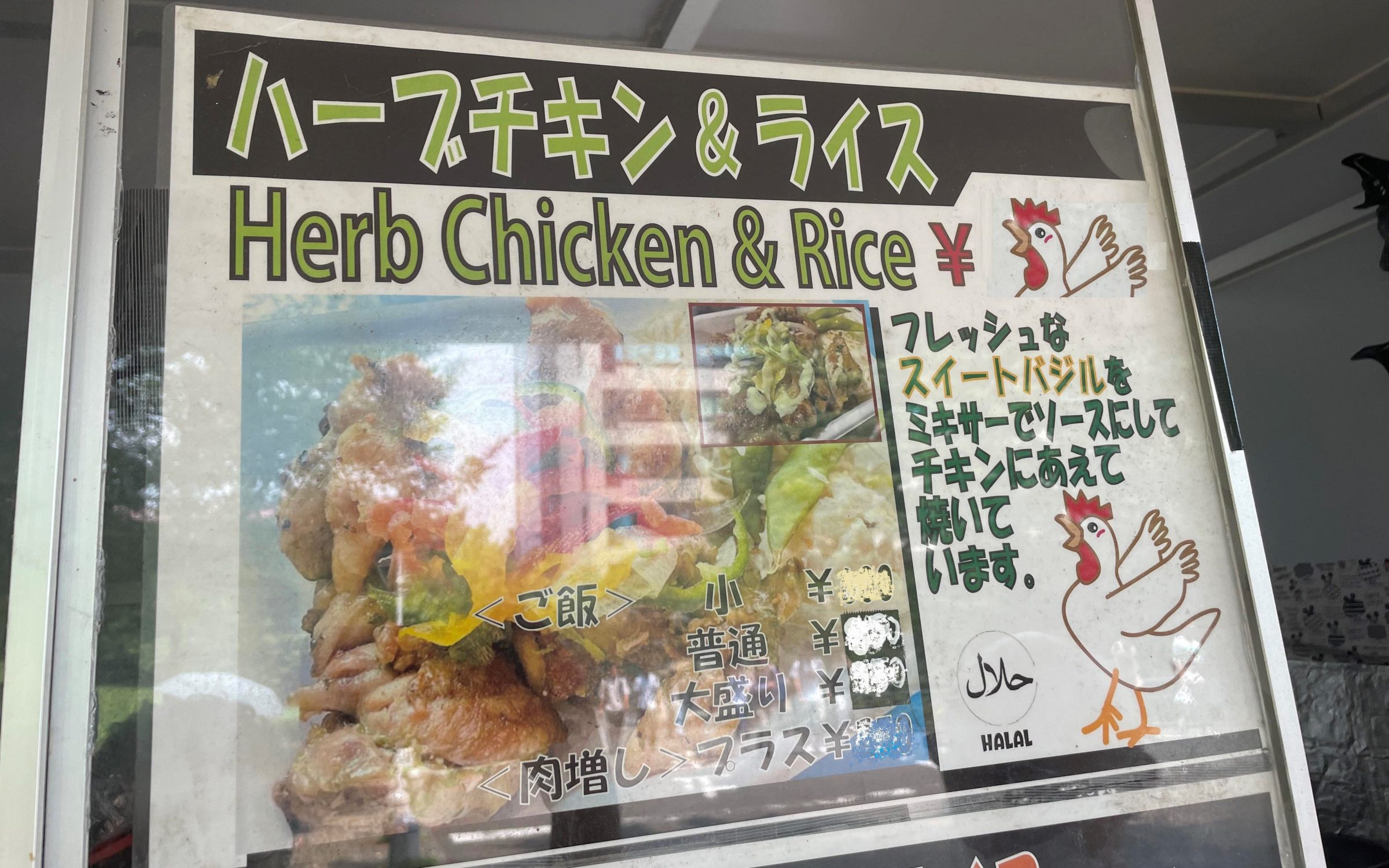 And I must mention the efforts of the cafeteria and co-op authority. Last February, Tokyo Tech Co-op held a halal-recommended menu tasting event, where halal-friendly items were introduced to Muslim students and the cafeteria manager discussed and clarified what procedures they are following inside the kitchen to ensure the halal-friendly menu. It was such a friendly and welcoming gesture! Refer to this social media post to see a picture of the event on the Instagram profile – tokyotechadmissions
Often, many students from other cultures and communities do not have any idea about halal food. Aina-san, a Malaysian Muslim sophomore at Tokyo Tech and Taki Plaza Gardener member, took the initiative to use halal meat in a Japanese hamburger-making event on campus organized by Taki Plaza Gardener. She used this opportunity to introduce halal food/meat to the Japanese and students from other cultures. Why don't you join Tokyo Tech and take such initiatives?
Now that I have talked about what's on campus, you may be wondering what is available off campus. It is hard to give all details in one blog, but I want to inform you that all the convenience stores have some items that are Muslim-friendly; from rice balls (onigiri) and bread to chocolates, cakes, and ice-cream. You can always find something halal-friendly. To know which particular items are okay, it is maybe better to consult with someone who has been living here for some time. Alternatively, there is a smartphone app that has a database of which items are halal and which are doubtful. You may check any product in convenience stores by scanning the QR code on the product packet through the app. In terms of restaurants, you can find plenty of halal food anywhere within 20-30 minutes all over Tokyo. It is just one search on your Google map with keywords, 'halal', 'restaurant', etc. to find out what is near you. Nevertheless, getting a recommendation from a friend always works. Thus, I think it is not too difficult to satisfy your appetite as a Muslim student in Japan. In the following picture, which was on the day after Eid-ul-Adha, you can see that I went to a restaurant, which was within a 30-minute distance on the train from the Ookayama campus, with Muslim brothers (friends) from different countries. Such a multicultural environment is what you can expect at Tokyo Tech, even among Muslim students!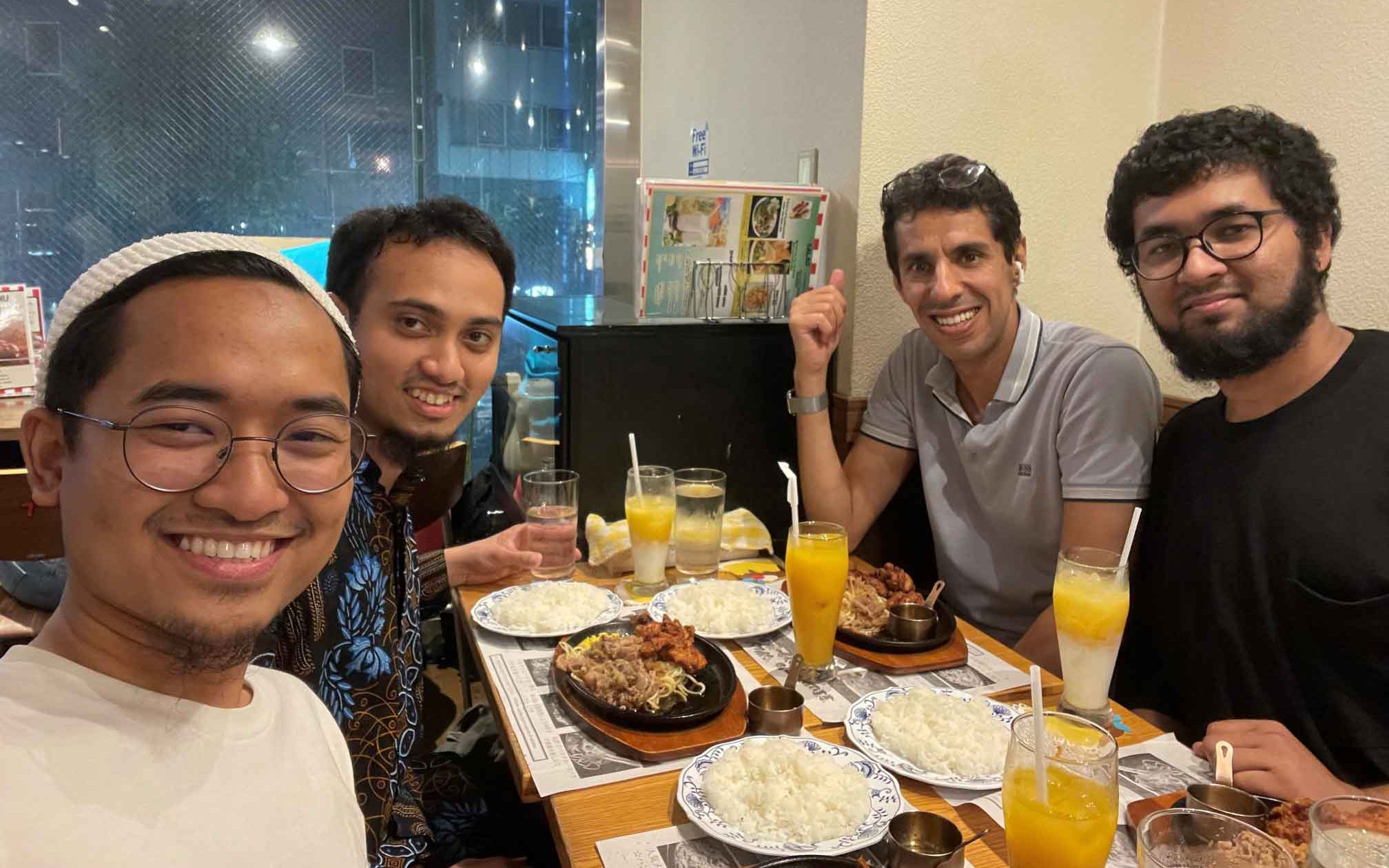 In conclusion of this article, I would like to caution readers that the food items (ingredients) offered at the various places I talked about are subject to change with time. So, it is always useful to stay updated with the Muslim students' community about which items are okay to eat. Also, I have not explicitly mentioned the names of any store, app, or food name outside the Tokyo Tech campus due to permission issues. But once you come to Japan, feel free to ask any Muslim student about them.
Finally, the environment at Tokyo Tech is very welcoming for any Muslim student. Although outside the scope of this blog topic, I want to mention that there is a designated prayer place in Ookayama (other campuses also have an arrangement). Muslim students also arrange Friday prayer together every week. During the last Ramadan (month of fasting), every weekday, students had the iftar (breaking fast) inside campus together. I did not know of all of this before coming. So, I hope this information will be useful to future students. In the end, I think Tokyo Tech has many students of different cultures, religions, and communities, making it suitable for students from any background. So, I welcome all prospective students.