How did I end up in the United Nations in 2022? Well, it all started with my sincere love for colorful, fragrant, soft gummy bears in 1999. Confused? Let me take you on a journey through my life!
Austria, 1999
One of my earliest childhood memories is falling in love with gummy bears at the age of five in Donau Park where I would go on the weekends with my family in Vienna. I remember recklessly rocking my little scooter down the park and feeling the wind in my hair as I drove at what seemed like the speed of light. (Though in reality, it was probably closer to the speed of a turtle.) I would race ahead of my parents and sister, hearing their cheerful-yet-careful calls of "Stay in sight, Amin! You are going so fast! Let us catch up!" behind me.
I enjoyed my scooter rides to the fullest, and nothing had the power to stop me. Nothing but the small gummy bear stall that sat midway through the park. I would get mesmerized by the pools of gummy bears that came in all kinds of shapes and colors, looking irresistibly sweet, delicious, and perfect for my baby teeth.
I will never forget the conversation my father had with the stall owner, who confirmed that all of the gummy bear products contained pork gelatin. As a Muslim, consuming such products was not an option. It was indeed a heart-wrenching moment for a five-year-old with a sweet tooth. But my parents were determined to find a way to satisfy my gummy bear cravings, and one day, I stumbled upon a miracle.
In fact, my father was working with the United Nations (UN) at the time, and it turned out that the UN commissary, having a highly diverse staff with various cultures and food restrictions, had just what I wanted — gummy bears!
"Where did you get them from, Dad?" I asked, gummy bear pack in hand, while jumping up and down like a pogo stick. "The UN!" replied my father, etching that name in the most sacred places of my memory.
To be honest, probably like any other preschooler, I had absolutely no idea of what the UN is and what it does. At the time, my only interaction with the UN was seeing the uniquely designed UN headquarters in Vienna on my occasional trips to Toys "R" Us, thinking, "that's a cool building."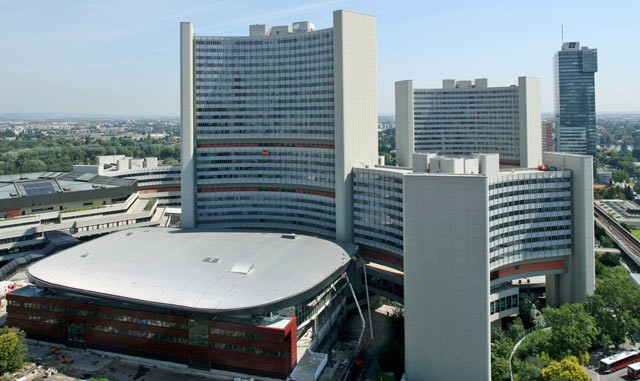 Little did I know that soon the UN would become my Willy Wonka's chocolate factory, my Disneyland, my dream. My parents recall hearing me ask, "When are we going to the UN?" over and over again. My trips to the UN for getting my gummy bears eventually came to an end when my father's mission was finished and we moved to Iran, where I could have all the Muslim-friendly (or so-called "Halal") gummy bears that I wanted. But I never forgot how the UN changed my life as a 5-year-old kid.
Today, the UN has kept the spirit of "delivering happiness" to children in serious need of it, all across the world and in different circumstances, via numerous programmes and subsidiaries such as the World Food Programme (WFP), United Nations Children's Fund (UNICEF), United Nations Population Fund (UNFPA), and United Nations High Commissioner for Refugees (UNHCR), just to name a few.
Japan, 2018
Fast forward to 2018. I started my master's studies at Tokyo Institute of Technology. On the train rides from Ookayama or Suzukakedai campus to my dormitory, I would sometimes reminisce about the happiest moments of my life, to get a head start on a delightful evening's rest. The "UN Gummy Bear" story frequently made it to the top, despite 19 years having passed.
I wondered if there was a way I could help a child somewhere in the world experience the same joy I felt, but the options available were either not feasible or simply beyond a student's budget.
Then, one day I stumbled upon ShareTheMeal, a groundbreaking crowdfunding smartphone app developed by WFP. It allowed me to make donations as small as ¥60 ($0.5)* that went directly towards feeding children and families in need all around the world. The app featured real-time updates on the impact of my donations, allowing me to see just how far my contribution can go, and how exactly it helped a family or a child in the project. Perfect, I thought — finally something amazing I can do on a student budget!
Donations soon became a habit, driven by the hope that I could make a positive impact on a child's life somewhere in the world. With each donation, I received feedback and heartwarming stories of how my contribution was making a difference to families and children in the projects I supported. But everything changed in 2020 when WFP won the Nobel Peace Prize — it felt as if I personally was the recipient! This recognition fueled my passion to get even more involved.
Tajikistan, 2022
Two years later in 2022, I officially joined the UN as an intern at WFP Tajikistan Country Office, located in Dushanbe. One of my biggest childhood questions — "When are we going to the UN?" — was finally and clearly answered. To tell you the truth, it was well worth the nearly two-decade wait. My experience at WFP was a dream come true in every sense, and now you know the story behind it.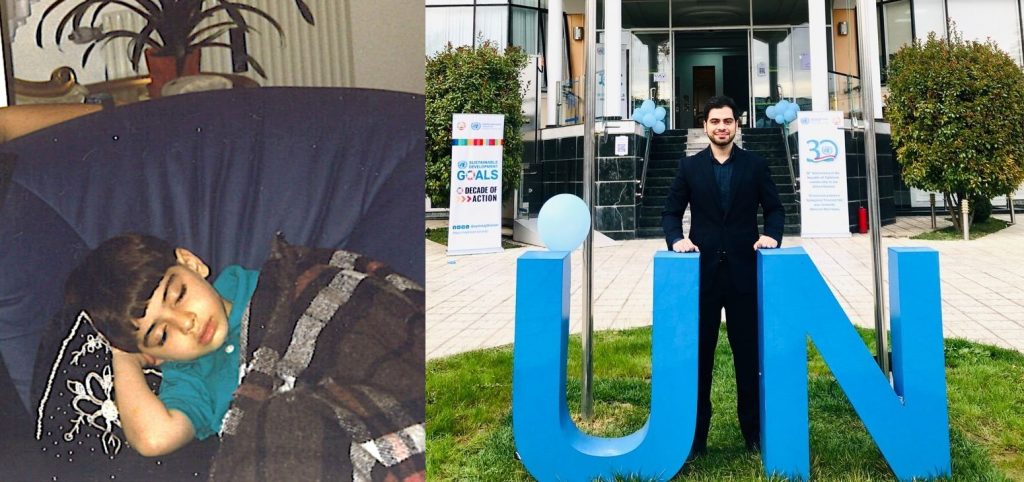 Listing all the work I was involved in and experiences I achieved during my internship would go beyond the limits of this blog. But to summarize, during my internship at WFP Tajikistan Country Office in Dushanbe, I utilized my skills and knowledge to provide support to all the units within the Country Office as well as the Field Offices in Khujand, Khorugh, Bokhtar, and Gharm.
While WFP's primary goal is to eradicate hunger and achieve SDG 2, it also emphasizes the importance of sustainable projects to ensure that these goals are met for generations to come. During my internship at WFP, I had the opportunity to work under the guidance of the head of the programme division, Arshia Khan, and was assigned to the Climate Change and Resilience Building (CCARB) unit. I feel grateful for the opportunity to have trained under highly committed experts in the field, and to have engaged in a diverse range of tasks. Through this experience, I was able to witness firsthand the leadership role that WFP plays in some of the most challenging environments.
Meanwhile, working with the Research, Assessment and Monitoring unit (RAM) and the School Feeding Programme unit (SFP) had a special meaning for me, as it gave me the opportunity to personally interact with children who were beneficiaries of WFP aid. Witnessing firsthand the positive impact that the UN was making on these children's lives resonated with my own childhood experiences and held a special place in my heart.

Speaking of leadership, Tokyo Tech places great emphasis on fostering leadership qualities in its students, offering a dedicated leadership program that graduate students can enroll in at the Tokyo Tech Academy for Leadership (ToTAL). I joined ToTAL in 2018 and had the opportunity to practice and develop many leadership traits over the span of five years, which proved invaluable during my internship with WFP. In turn, this internship fulfilled the "Off-campus Project" requirement outlined in the ToTAL curriculum. The Off-campus Project offers a unique and unparalleled opportunity for students to expand their leadership qualities beyond the borders of the university and the country.
Tajikistan was the first country I visited in Central Asia, and like any first international trip, I felt slightly cautious. My mind was filled with a multitude of questions:
"Will I be welcomed?"
"Will I be safe?"
"How will I get around the country and the city?"
"What will I do if I face a problem?"
"Who will I ask for help if I need it?"
"What will the food be like?"
But soon after arriving in Tajikistan, all of these worries faded away. Asking a local for help never failed to reassure me that I would be safe and welcomed.
It was not uncommon to be invited into homes for a cup of tea or even a meal, even though we had just met. I was touched by their kindness and warmth, such as the time when I was lost and needed a cab in the city of Khujand, and a kind local man in the street not only made a phone call to the taxi company on my behalf, but insisted on keeping me company until the cab arrived minutes later.

Soon enough, all my concerns were replaced by the utmost hospitality of kindhearted Tajiks, delicious and healthy food, breathtaking mountains and nature, and a rich history and culture spanning thousands of years.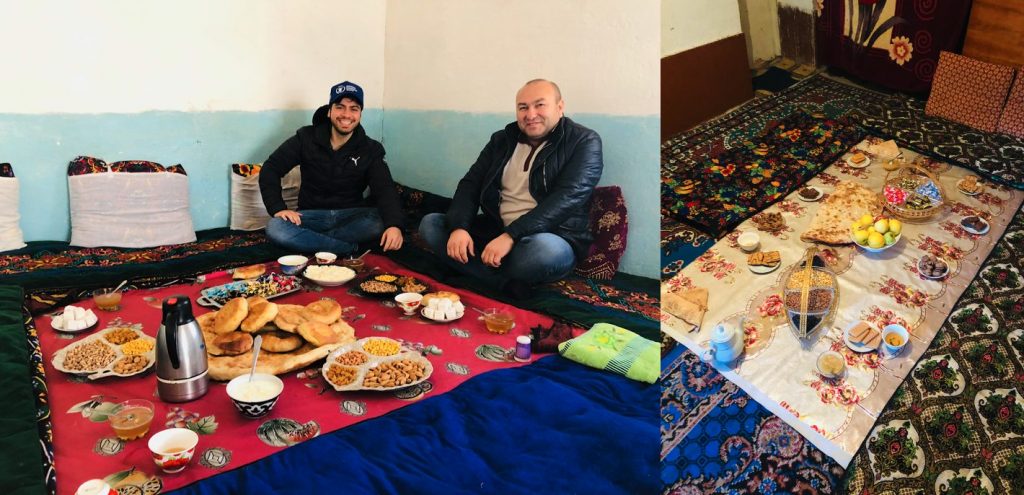 Although my internship at the UN (October to December, 2022) was brief, the warm and welcoming culture of the organization had a lasting impact on me. From the first day, the staff made me feel like a valuable member of the team, and I quickly found a supportive and caring family in this community. This experience inspired me to reconsider my childhood dream of "going" to the UN and instead, start thinking of "staying" to perpetuate this impending reality. I am now resolute in my pursuit of this goal with unwavering dedication.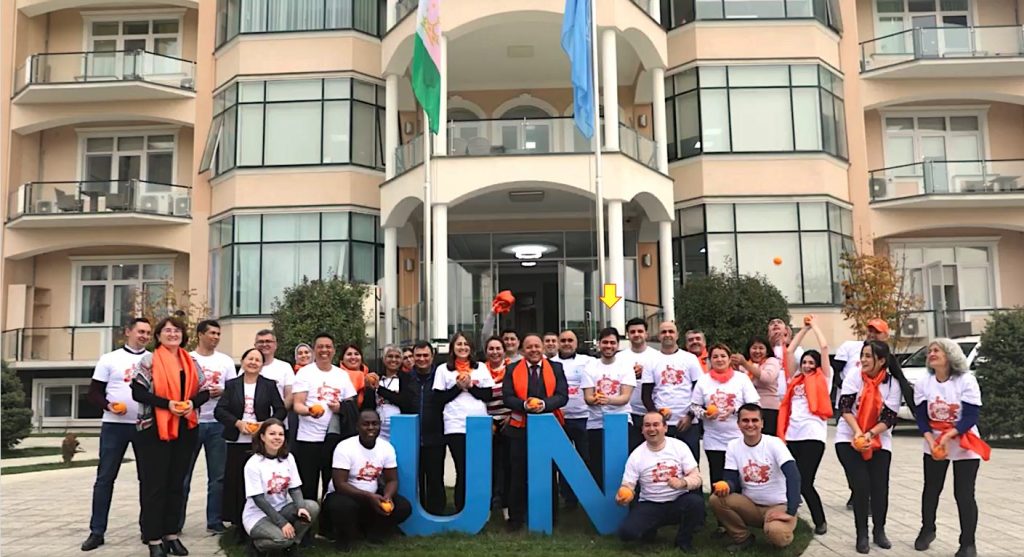 * This is the price for one meal, and you can up the donation by increasing the number of meals you want to donate. This was the price of one meal in 2018 (¥85 as of February 2023).
Acknowledgments:
If space allowed, I would have listed each and every staff member at WFP Tajikistan Country Office, as well as the Gharm, Khujand, Khorugh, and Bokhtar Field Offices. You have all been a blessing, and I feel incredibly lucky to have crossed paths with such warm and welcoming colleagues during my internship.
I would like to express my sincere gratitude to my academic supervisor, Prof. Koji Tokimatsu, for his unwavering support despite the distance, and I am extremely grateful for Dr. Nadimi's professional and technical support. I would also like to thank my friends at the laboratory and university for checking in on me and sharing my excitement about this experience.
I am deeply appreciative of the hospitality shown to me by the people of Tajikistan, who made sure that I never felt homesick during my stay. I am also obliged for the continuous support of the staff at Tokyo Tech.
Last but not least, I want to acknowledge the invaluable role that ToTAL, its staff, and the professors played in making this journey possible and contributing significantly to my academic and experiential growth. Without their support, none of this would have been possible and for that, I am eternally grateful.