This is Liu, and today I'm showcasing you the hidden gems around the main campus of Tokyo Tech: The Local bakeries.
Bread!
Who doesn't like a fluffy piece of gluten and carbs? This delicious staple has raised countless people on the planet, especially in occidental countries. However, Asia, Japan, in particular, is known for its population filled with rice-eating fellas. Farming Japonica rice Koshihikari, arguably one of the best rice worldwide, the Japanese do love their rice. From there, Onigiri, Sushi, Katsu-don, Japanese curry… you name it. Countless great rice-based dish has been invented/perfected in this country.
However, after getting more familiar with the Western world cultural habits. the consumption of bread is on the rise. A common conflict among Japanese people nowadays is whether we should eat bread or rice in the morning (ご飯派/パン派).
This bread hype is influential especially in Ookayama, the town where Tokyo Tech is located. Ookayama is considered one of the most pleasant places to live in. Mysteriously, the small, humble town is densely populated by high-quality local bakeries. In fact, among the 5 nearby bakeries that I am going to introduce, 3 of them were chosen as the "100 best bakeries in Tokyo" in the year 2020 (パンTOKYO百名店2020).
One possible reason I could think of is related to the inhabitants around Ookayama station. Firstly, two subway lines, Meguro line and Oimachi line pass through Ookayama station, making it an interchange station, which is usually more bustling than a normal station. Also, compared to other subway lines, Meguro line is known for its wealthier inhabitants. Since in Japan, bread eating is somehow linked to class and fashion, bakeries could be more likely to open alongside Meguro line. This, however, is another mystery yet to be solved.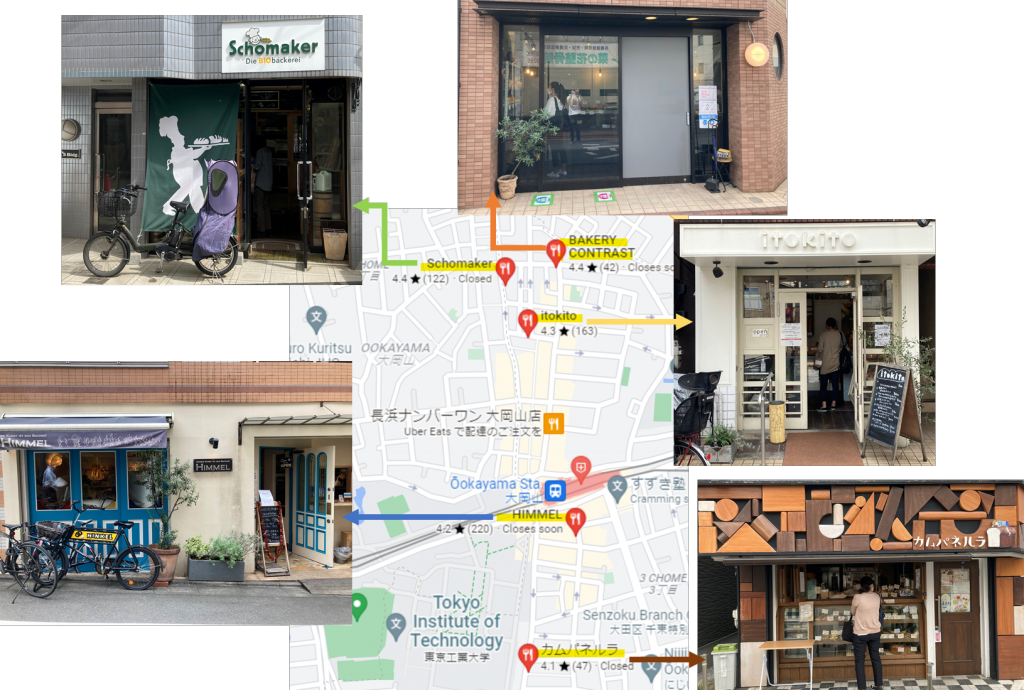 Now, it's time to showcase the local bakeries! Please refer to the bread map above for their exact location.
*Disclaimer: This introduction is 100% subjective and I do not represent any of the bakeries.
First, we have Schomaker and Himmel, both of which claim to be German bakeries.
Schomaker serves absolute hardcore authentic German bread. My German friend who used to live nearby gave it a thumbs up. It is recommended to come here early or even make a reservation on their website. Apparently, a lot of die-hard fans enjoy binge-buying online, so usually, there is not much is left in the store.
Himmel, on the other hand, incorporates patisserie traits. Apart from hardcore German bread, cutesy pastries of all kinds are also to be seen in this shop. Both the shop's interior and the pastries are delicately decorated, making it an enjoyable experience just to look around.
Next, for the French-Italian side, we have Itokito and Contrast.
Itokito, probably the most famous bakery in Ookayama. I usually find myself queuing up alongside a dozen of rich local mammas… such an awkward experience. They serve savory tartines, delicate sandwiches, and, in my opinion, some good quality French bread.
Contrast, has a similar line-up but specializes more in Italian bread. They make ciabatta, which is rarely found nearby, and their focaccia is filled with olive oil and rosemary goodness, absolutely delicious.
Lastly, Campanella. I really can't find a category for this shop. Japanese influenced sweet red bean bread, French country bread, cookies, Danish pastries…I guess they just bake whatever they want. This is also my go-to shop due to its location: one-minute walk from the campus' side gate.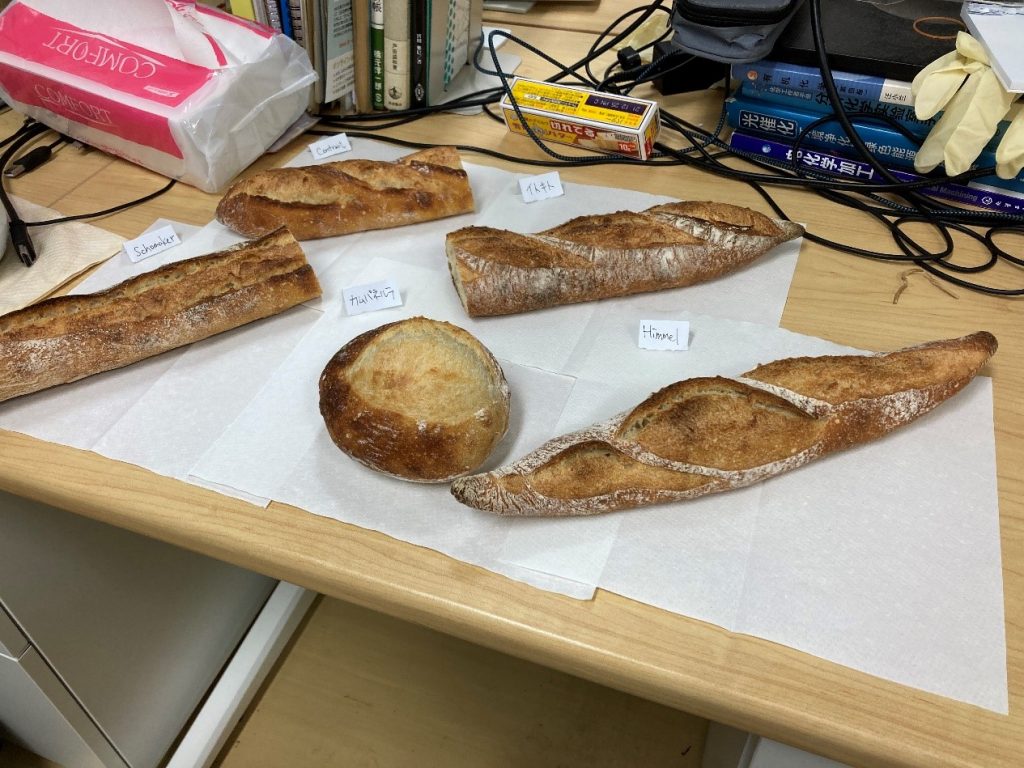 Since we have a lot of bakeries around, I thought it was a good idea to hold a taste test.
Here, I present you the first bread competition of Ookayama!
The type I chose to for the taste test, is "Traditional Baguette" (which I believe is a baguette with a longer fermentation time) because all of the bakeries somehow had one similar item on their shelves.
Since all Europeans should be bread experts, I invited Anna, the closest human being to a European in our lab as a bread judge. She's kind of Russian, so I guess she could be qualified as semi-European. Including Anna and me, a total of 7 participants in our lab were invited for the scoring process. We together scored from 1 to 10 and took the average in the following 4 categories: Crunch, Airiness, Tenderness, Moisture.
According to our survey, the bread from Itokito scored the highest in the categories of "Crunch" and "Airiness", and it is liked by Anna and most of us, technically making it the winner of the competition. Interestingly, the one from Campanella, scored the highest in "Tenderness" and "Moisture", and our Japanese labmates liked it better. I guess taste is a matter of preference after all. Maybe you can come and try them for yourself.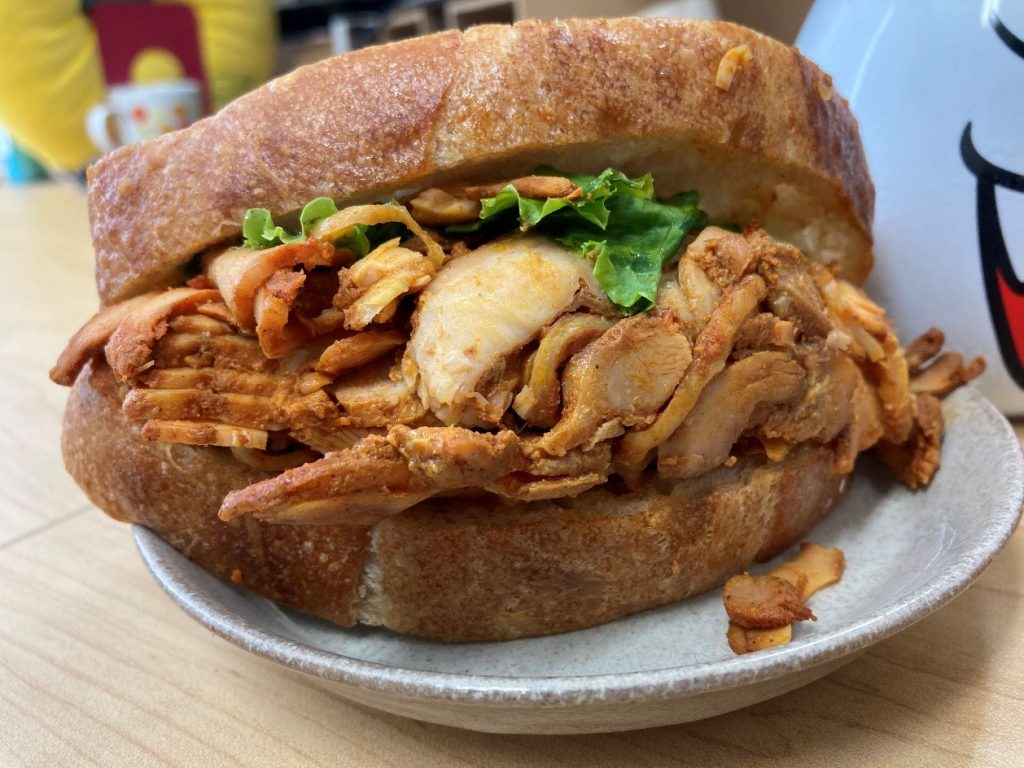 Last but not least, I'd like to give credit to one of my personal favorite items in Ookayama: The tandoori chicken sandwich from Campanella.
As I mentioned above, Campanella is located near the campus, so it is also my place of choice when I want to grab a quick lunch. And when I go there, I almost go exclusively for this particular sandwich. Looking at the picture, the tandoori chicken slices are so generously crammed in the slices of the French country bread, it's almost oozing out. We've almost achieved a 1:1 ratio of meat to bread by volume. Now we're talking. I'm not a sandwich expert, and I don't know whether this is a good example for a sandwich, but I do know this is what I want for lunch.
That's all for me today, and shout out to all the nice local bakeries again! Thanks to their daily hard work, Ookayama has become a paradise for bread-lovers.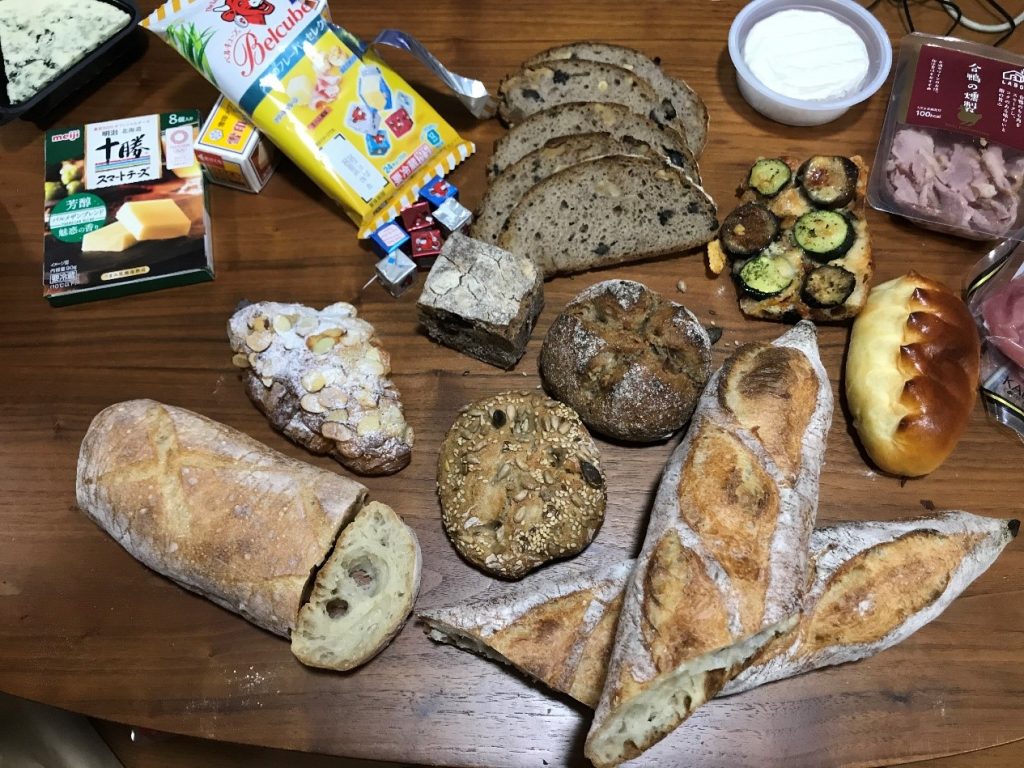 ・Reference
"Bakeries around Ookayama" from a new series of movies "My Tokyo Tech".